Recruiting Features
Robust Recruiting Features to Reach Top Talent
Designed by recruiters, for recruiters to help you find, attract, and hire the right talent. Speak to a representative today. Call 844-960-4690.
Key

Recruiting Features
Uncover Candidates Like Never Before
Paycor Smart Sourcing
Find talent that other solutions miss. Let AI source for you and decrease sourcing time and costs by 75%.
True AI-Powered Search
Reach candidates who are actively looking to change jobs and passive candidates who may not be in the market, as well as diverse candidates who may be missed by traditional systems. Paycor Smart Sourcing will tap into a database of 1.5 billion profiles and post your jobs on thousands of sites so you can speak with the best candidates for every role.
Candidate Texting
Strengthen your talent pipeline—instantly communicate with prospects, reconnect with candidates, send follow-up info and timely reminders.
Virtual Recruiting
Video interviewing with Spark Hire and Zoom meetings integration creates a seamless user experience for candidates and saves you time.
Keep an Eye on Your Pipeline
Robust Dashboard
Instantly view your open jobs, candidate pipeline, and approvals to promote transparency and accountability.
Insightful Analytics
Gain valuable insights into your hiring process and track important metrics like time-to-hire and lead sources.
Interview Scorecards
Automatically save post-interview feedback through easy-to-use scoring.
Automated Offer Letters
Get quick, easy candidate responses to improve your offer acceptance rates.

Manage Tasks With Ease
Streamlined Approvals
Automated workflows mean no more manually tracking down everyone when your business requires multiple levels of approvals for job postings and offers.
Fair Hiring
Be assured your hiring process is impartial with standardized postings, optimized review processes, interview scorecards, and more.
Stay Compliant
Built-in EEO and OFCCP compliance functionality such as explanations for not moving forward with a candidate keep you safe, allowing you to focus on getting more candidates in the door.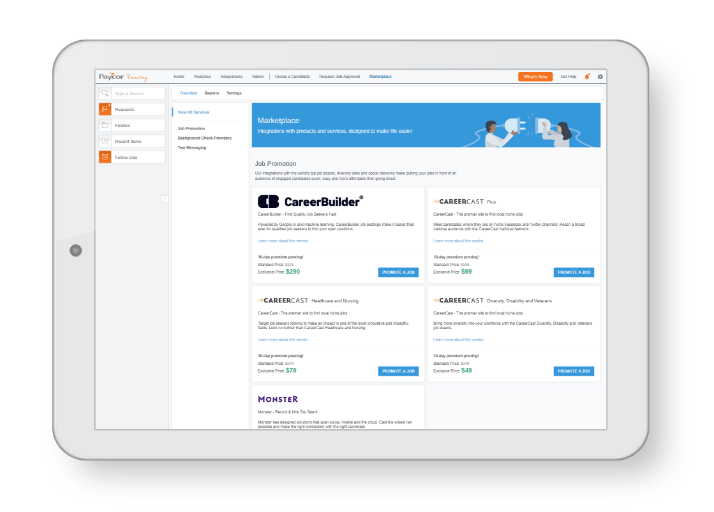 Additional Features
Integrations
Paycor Recruiting's vast network of integration partners offers background checks, pre-hire assessments, and seamless job postings to 25,000+ job boards.
Employee Referrals
Reward your employees for referrals with a fast, mobile, easy-to-use tool for sharing job openings on their personal networks.
Diversity Boost
Increase the diversity representation of your candidate pool by eliminating bias (photos and names are blurred).
Win the War for Talent with Paycor
Paycor builds HR & Payroll software for leaders, to help them manage and develop employees and run their business. Contact us to see how we can help.