6 Things to Look for in an Online Benefits Administration Solution
6 Things to Look for in an Online Benefits Administration Solution
With so many benefits administration providers out there fighting for your business, deciding which one to partner with can be stressful. From rising health care costs to managing evolving regulations, employers are faced with a lot of considerations, which makes finding the right provider not so cut and dry. If you're unsure what to look for or are struggling to find the right fit for your business, let this article help direct your search.
Assess Your Needs
There's no doubt that finding the right HR benefits technology will drastically improve your work life, but no two providers are the same. First, it's important to assess your own needs and do your homework. If you're looking to track and report on which benefits offerings are most popular amongst your workforce, you'll need to select an online benefits provider that can offer real-time analytics and reporting capabilities. During a sales demonstration, provide examples of the types of reports you're looking for to ensure that provider can deliver. By first understanding your internal needs and then matching them to various providers' functionality, you can prevent buyer's remorse.
Here Are 6 Things to Look for in a Benefits Software Platform:
1. Cure Open Enrollment Anxiety
Employers dread it. Employees are overwhelmed by it. Open enrollment is one of the most challenging times of the year for HR pros because it's often plagued by inefficient, time-consuming processes. And for employees, little education or communication can result in costly benefits selections. So instead of repeating the same struggles each year, go paperless. The right benefit software solution will automate the entire enrollment process, freeing you up to answer questions about, PTO, medical and dental plans, 401(k) offerings and other benefits perks. Instead of coming to you with repeated questions on costs and what's available, employees can review options and check out their own plans online.
2. Benefits Under One Roof
When searching for the right online benefits tool, you'll want to ask about where employee information lives. If you're forced to access multiple HR platforms to gather information, pump the brakes. The more back and forth required, the more likely errors will result, and the more confused your people will be. Instead, identify a solution that offers one place for open enrollment and benefits documentation. And mobile access is also a must. The more information available at your employees' fingertips, the less time you'll spend getting bogged down with questions.
3. Numbers Don't Lie
Just having a benefits system isn't enough. In order to maximize the value of your offerings, find a provider that allows you to track data on number of employees enrolling in benefits, plan choices and more. Knowing which benefits packages are most popular can ensure that you're getting the most out of your program and prevent you from offering a costly but underutilized plan.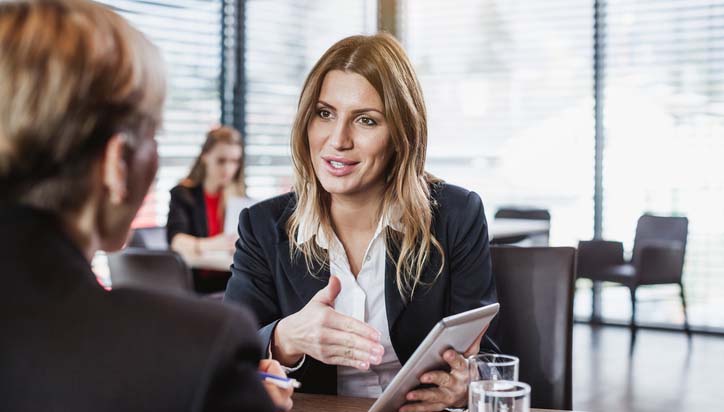 4. Communication Is Key
Ask employees what's lacking from their benefits program and you'll find a recurring theme: employee education and communication. With a myriad of options to choose from, employees quickly become overwhelmed and often fall back to the plan they've always selected. The trouble here is that many don't always know if that plan is the right fit. Employers should make it a priority to educate and engage their people on available plans throughout the year, not just leading up to open enrollment. Lunch and learn presentations are great ways to market your packages and demonstrate value to your people. By using the right tool to streamline benefits decisions and reduce errors, the more opportunity you'll have to spread helpful information to your people about their benefits options.
5. Decision Support Tools
Some benefits administration solutions go as far as offering interactive decision support tools to help employees make more informed and personalized choices. For example, the support tool will ask employees questions about any upcoming medical procedures or important events, like the birth of a child. Based on the answers provided, the support tool will suggest a plan that fits that individual's needs. Not only does it provide the education that employees crave, but it removes HR pros from having to constantly answer employees' questions.
6. Connect to Carriers
Instead of manually entering elections and employee updates, companies are looking for providers that offer carrier connect services. Carrier connect services directly transmit data between a benefits platform and your insurance provider; significantly eliminating repeated manual work. Choosing a benefits admin provider will never be a simple task, but knowing what to look for can strengthen your chance of finding the right solution for your business.
How Paycor Can Help
Paycor specializes in helping businesses of all sizes with online benefit administration and HR solutions, offering trusted guidance to a sometimes-overwhelming process. Our benefits administration solution is built to improve open enrollment, employee education and administration efficiency. Contact our team today so we can learn more about your business needs and how we can help.
---
Subscribe to Our Resource Center Digest
Enter your email below to receive a weekly recap of the latest articles from Paycor's Resource Center.


Check your inbox for an email confirming your subscription. Enjoy!


Buyer's Guide To HCM And Payroll Technology
An HCM platform is the foundation of your business, and choosing the technology is one of the most important decisions you'll make.
Get Expertise
Stay Up to Date
Sign up to receive our latest research and expert advice.
Check your inbox for an email confirming your subscription. Enjoy!