Refer a Friend to Paycor
We value your partnership, and we'd love the opportunity to support more organizations like yours. Anyone come to mind?
We're excited to announce a brand new referral incentive!
For every referral that becomes a client, you'll receive a $100 Amazon gift card plus 10% off your next purchase of our Learning Management System (LMS), HR or Applicant Tracking System (ATS).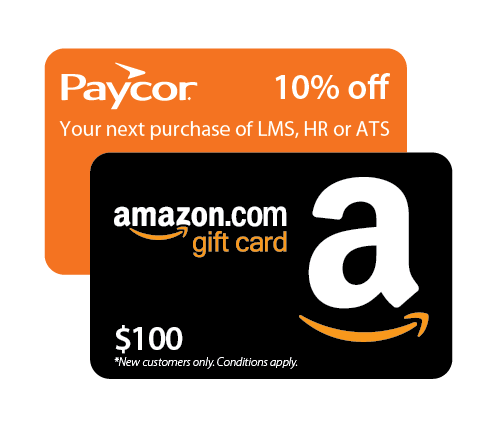 Follow these easy steps to get started:
Fill out the form on this page to submit your referral.
If they become a client, you'll receive the applicable rewards above.*
Paycor is dedicated to helping you make a difference in your organization. We appreciate your business and look forward to all the great things we can accomplish together!
*New client cannot be affiliated with an existing Paycor client. New client must run at least one payroll with Paycor. Paycor referral partners are not eligible for this program. If you refer someone and that person becomes a new client, you will receive the program rewards within 60 days after the new client runs its first payroll with Paycor. Program incentives apply to company ID, not individual FEINs. Referring client is only eligible for the discount if they are not using ATS, LMS, or Perform HR. The discount applies to client's next purchase of ATS, LMS, or Perform HR. Client will have three months from the date referred client processed their first payroll with Paycor to take advantage of discount. Must be an active Paycor client in order to receive the referral incentives.
Not a client, but still want to make a referral?
Click here to get started.