ACA Reporting Software
ACA Reporting Software & Compliance Tool
Paycor's ACA software provides comprehensive reports and IRS Filing Service that will give you confidence you're compliant even with all the complexities of ACA reporting.
More than 40,000 businesses nationwide trust Paycor*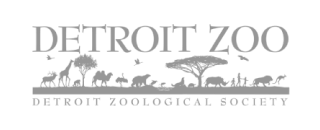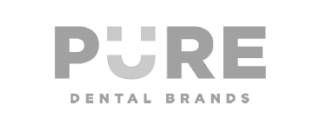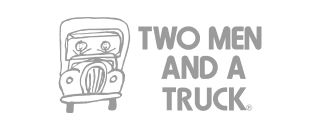 4.5/5 (2065 Reviews)
Paycor online platform has saved hours in payroll processing time. I have the flexibility to process payroll when it is convenient for me.
JENNA DALGETY
Office Manager
Zanies Comedy Night Club
With Paycor's onboarding solution, adding new hires takes me very little time. I also love that you can store documents online.

LAURA SPRADLEY
Director of Brand Development
Goo Goo Cluster
The overall experience is good as the program fulfills its purpose well, making life easier for companies that need payroll software.

NANCY FLIPPIN
CFO
MANNA Foodbank
Working with Paycor has cut our payroll processing time down from almost a full day to one hour. We also have more visibility.

AMANDA D.
Marketing Director
Hospital & Health Care
Paycor is more than just a time- keeping software. Employees can put in their hours and PTO requests, and can see their pay stubs and benefits.

LINA M.
Hospital Administrator
Hospital & Health Care
The software is rapidly updated with changes of times such as setting up new earnings codes for COVID related leaves. Easy to use.

LINCOLN M.
Financial Assistant
Non-Profit Organization
Eliminate the Stress of ACA Filing
Paycor's ACA management tool is an award-winning solution that helps organizations manage Affordable Care Act reporting and ensures your benefits and ACA processes are streamlined and compliant.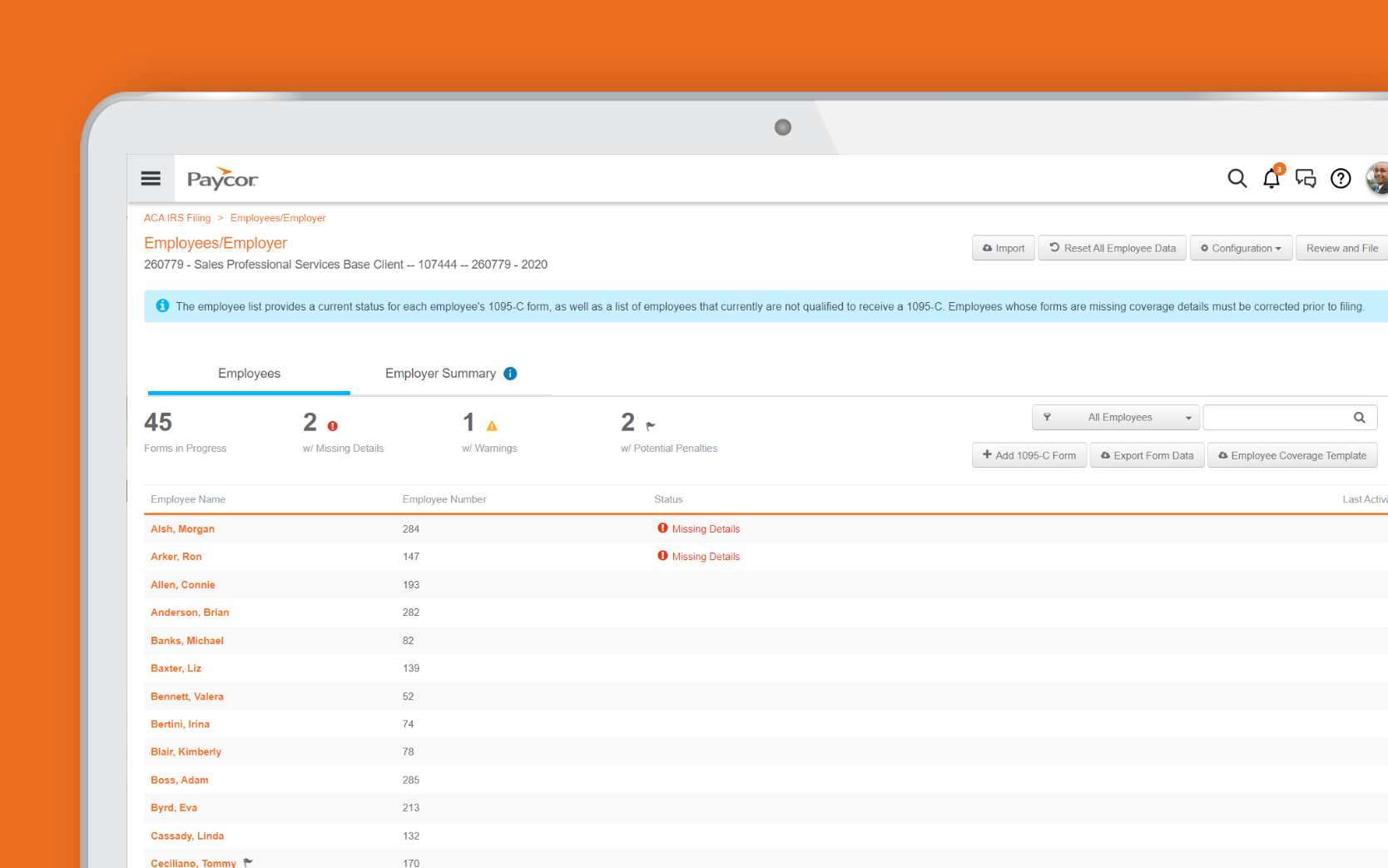 Filing Success —
Paycor's ACA software helps you prepare, generate and file required forms like 1094-C and 1095-C as well as provide feedback on submission status and review full history.
Proactive Notifications —
We ensure your filing is complete and accurate by identifying any discrepancies before you click submit.
Reporting Engine —
Easily access and review critical reports like Affordability, Applicable Large Employer and Employee Eligibility.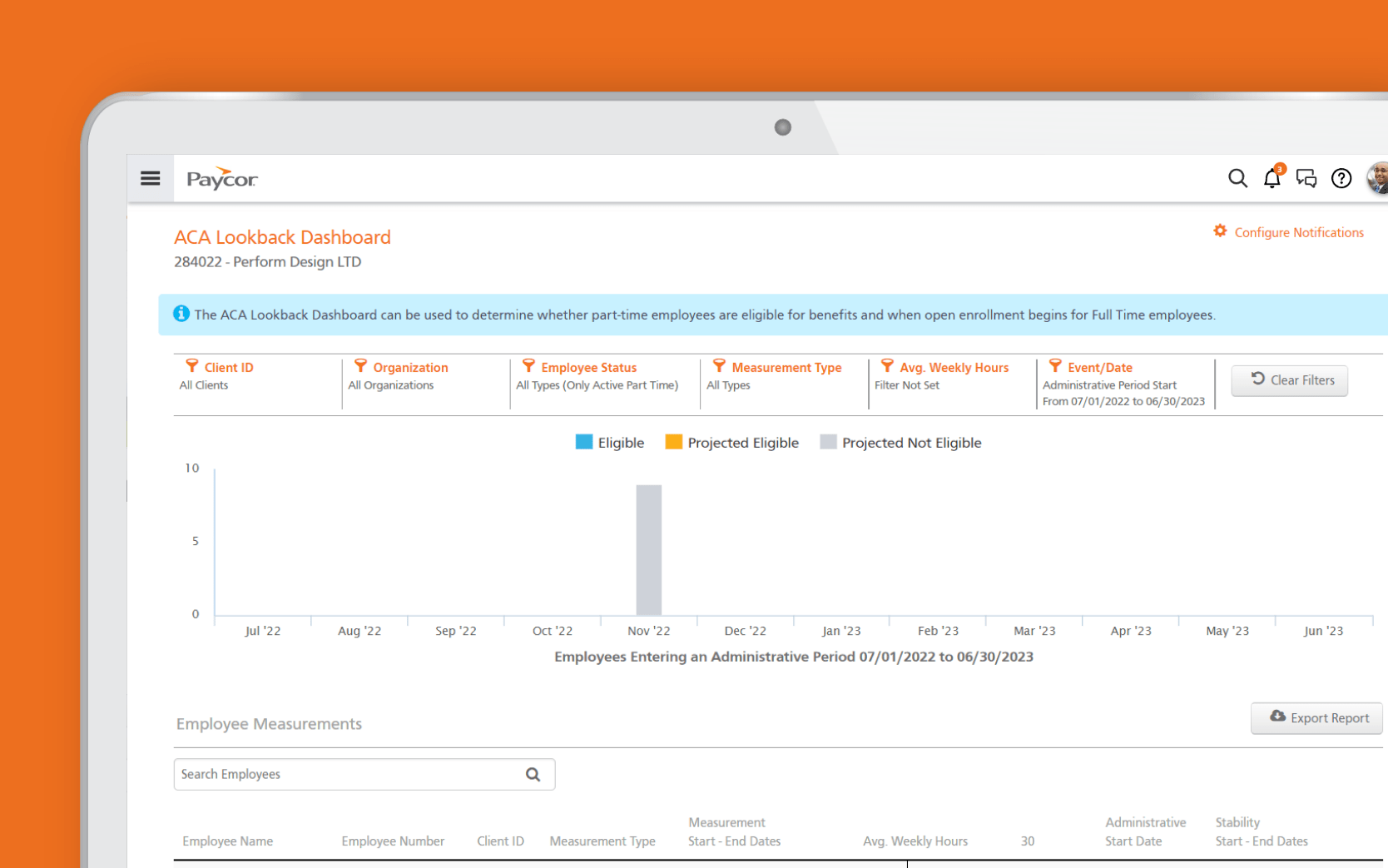 Streamline Open Enrollment —
Utilize interactive dashboards to identify eligibility across administrative periods, compare past and current measurement periods and view remaining hours before an employee becomes eligible.
*Section highlights key pain points and differentiators of Paycor's software.
The ACA Compliance Solution HR Leaders Trust
Paycor allows you to quickly, easily and confidently pay employees from wherever you are. Get started to see how.
Configured for Your Industry
Recruit and hire skilled nurses, dynamically schedule staff, and boost engagement and retention with Paycor's configurable software.
Recruit skilled labor, optimize coverage, and track and analyze labor costs with Paycor's configurable software.
Speed up the recruiting process with same day hire, streamline with custom hiring workflows, offer workers OnDemand Pay and self-service on an award-winning mobile app.
Save time with a unified, mobile-first experience intuitively designed for leaders and gain deeper insights about your business with powerful analytics.
Maintain compliance, pay adjuncts and staff accurately and on time, schedule staff at multiple campuses, recruit qualified talents, and get up to speed faster with our industry-skilled implementation.
Recruit, onboard, pay, and schedule workers in a mobile-first environment. The last thing retailers need is a generic solution. That's why leading retailers partner with Paycor.
Pay employees accurately and on-time in a heavily regulated tax environment. Overcome staff shortages, maintain tax compliance, and help tie operations to grant funding.
A Proven Track Record of Success
How does Paycor ensure ACA filing success? Our product teams created an unparalleled ACA reporting and filing solution, with an error management system, real-time alerts and in-app training for clients. Our ACA Care team, built from the ground up, was comprised of ACA and product experts. With our product expertise and amazing service combined, we were able to guide our clients successfully through the complexities of ACA IRS filing and reporting.
Ensure Compliance
Never worry about penalties or fines again. Our full-service ACA reporting solution offers proactive alerts to help you stay ahead of the latest regulations. And you can access our online ACA resource center for guides, checklists, calculators and more.
Eliminate Complexities
Need a better way to manage ACA filing? Paycor's ACA reporting service helps you prepare, generate and file 1094-C and 1095-C forms and sends them directly to you or your employees.
Automate the Process
Say goodbye to manual reports and uploads. With Paycor, you can manage employee benefits through an online platform that integrates with payroll, time and our ACA IRS filing service while also tracking hours to determine which employees are eligible for benefits.
ACA Reporting Trusted By Users & 3rd Party Evaluators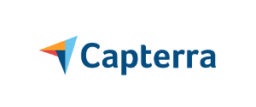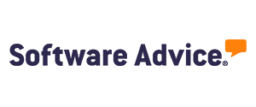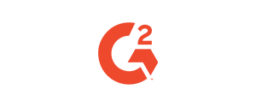 "Working with Paycor these past 7 years, they are always there for us. They deliver the timeliness and accuracy that we require. Paycor is a consistent and trusted resource in a very inconsistent and unpredictable industry."
– Christopher Baker, President
---
Payroll Accuracy
Paycor helps deliver timely and accurate payroll and tax filing for more than 360 employees working in multiple states.
ACA Tracking
Twin Coast Enterprises previously used a third-party vendor for ACA tracking but now saves more than $9,000/year with Paycor.

Resources
From stressful open enrollment periods to endless employee questions, benefits administration is challenging. Finding the right technology to streamline processes and educate employees is crucial. Read this article for more.
Guides + White Papers
Read Time: 1 min
With Paycor, you'll get an unparalleled ACA IRS filing solution, with an error management system, real-time alerts and in-app training for clients.
Article
Read Time: 5 min
Administering employee benefits at scale, isn't easy. See how benefits management software can help you get it right.