Framework for Leadership
Introducing the COR Leadership Framework
Paycor empowers leaders to develop winning teams. Our product is purpose-built for leaders. And now, our COR Leadership Framework explains how your organization can use best practices and technology to build a culture of accountability and engagement. The first step is to transform managers into leaders.
Paycor's COR Leadership Framework provides the tools and technology organizations need to build a culture of effective leadership.
Paycor Pulse —
Leverage the Pulse Leadership Survey to create a psychologically safe environment for employees to share feedback on managers, gain valuable insights into leader performance, and identify areas for growth.
COR Leadership Insights —
Surfaces employee demographic, recognition, job status, and compensation data for frontline managers to quickly identify which employees may need attention.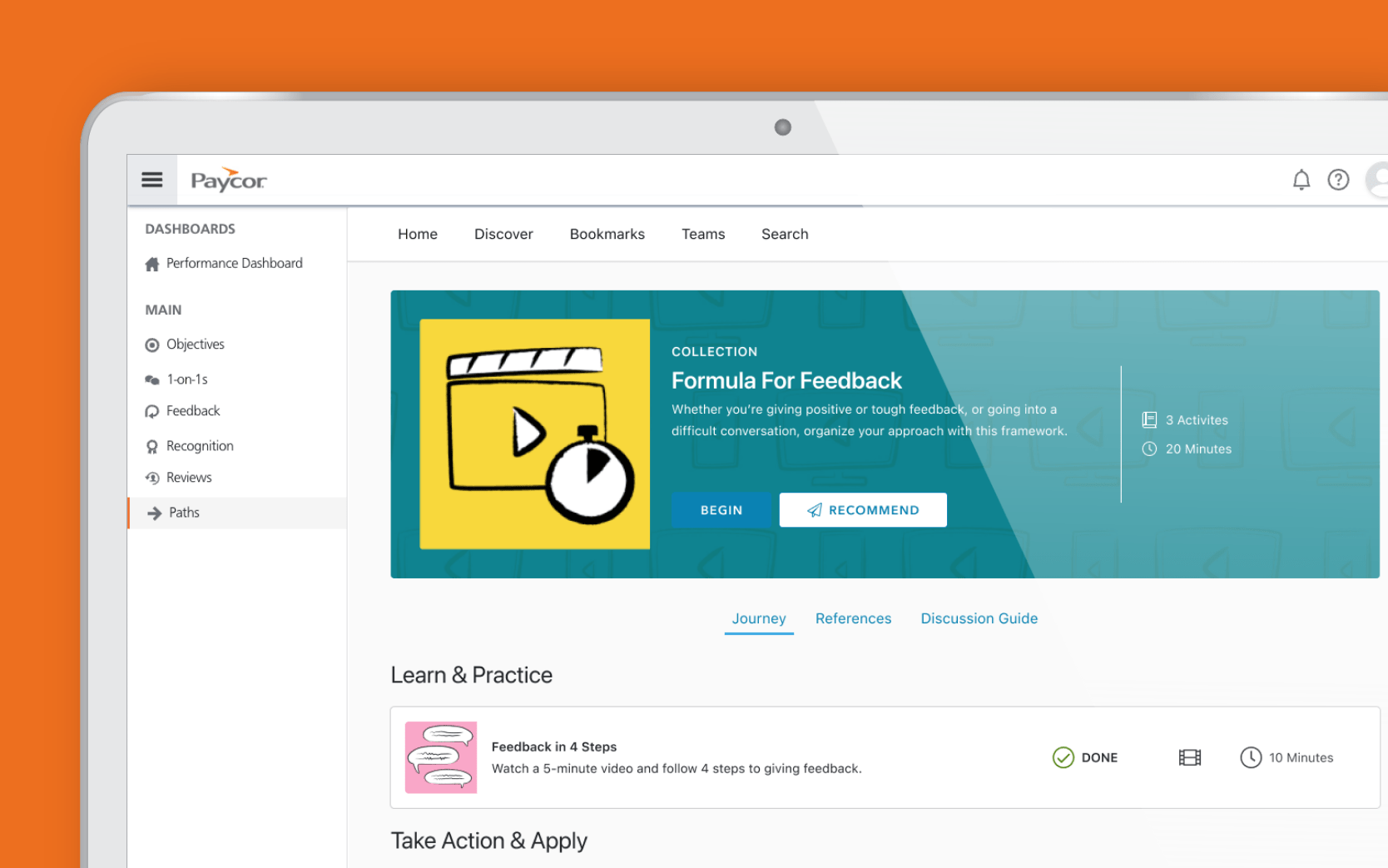 Paycor Paths —
Deliver personalized, scalable, and compelling leadership development to help grow your frontline managers and future leaders, enhance culture across your organization, and increase employee engagement.
Leaders Make All the Difference
The COR Leadership Framework is built upon decades of research indicating that the most effective leaders focus on intentionally coaching their employees towards constant improvement, optimize the performance of their employees and team to meet organizational goals, and recognize and reward their employees appropriately to retain top talent.
Gallup found that 70% of the variance in team engagement is explained by the quality of managers. Great managers drive productivity, loyalty, customer satisfaction, and short- and long-term business success. Bad managers do the opposite.
Paycor's COR Leadership Framework is your pathway to building a culture of effective leadership in your organization.
Why Leaders? Why Now
60% of HR leaders say "leader and manager effectiveness" is their #1 priority in 2023 (Gartner). Why? Because leaders across the organization disproportionately affect employee engagement.
In the last 6 months, 62% of employees resigned citing "toxic company culture" as their #1 reason for leaving, followed by low salary, poor management, and unsustainable work-life balance (FlexJobs). What do all those reasons for leaving have in common? It all comes from the top.
Download our guide, "The 3 Leadership Behaviors that Drive Fierce Loyalty & Extreme Engagement" to learn:
Why intentional coaching is key. And how to do it.
How to optimize performance to meet organizational goals.
The best ways to recognize and reward employees to retain top talent.
Practical plans you can use today.
Transform Frontline Managers into
Leaders
Coach —
Help employees find the sweet spot between their personal aspirations and the needs of the organization.
How Paycor Helps:
Onboarding
1:1 tool
Goal Alignment
Career Management
Leader Homepage
9-box
LMS
Paycor Paths
Optimize —
Balance a relentless drive to excellence without burning people out or micromanaging.
How Paycor Helps:
Progress Tracking
Performance Reviews
Reporting
Goals/OKRs
Time Budgeting / Forecasting
Retain —
Incentivize employees in a holistic way that makes them feel authentically valued.
How Paycor Helps:
Benefits
Compensation Planning
Payroll
Pulse
Paycor Wallet
Recognition
Analytics
Scheduling
Team Insights Dashboard

Resources
Get the expert advice and thought leadership you need to help solve your toughest business challenges.