Pulse Surveys
Go Beyond Surveys
Gather and convert employee feedback into real insights with employee pulse surveys — so you can get ahead of potential problems like turnover and low morale. Speak to a representative today, call 855-565-3291.
Understand How Employees Think + Feel
To better understand how employees feel about your organization, HR leaders must continuously gather data that analyzes engagement levels, satisfaction with career/personal growth and relationships with management. Paycor Pulse empowers leaders to go beyond the traditional annual survey and seek employee sentiment, evaluate honest feedback and develop an agile action plan based on employees' responses and concerns.
Improve Engagement
Plagued by high turnover and low morale? With employee pulse survey software, you can use employee responses to better pinpoint problem areas and take action.
Create a Culture of Trust
Do your employees feel like their voices are heard? Employee engagement surveys help instill confidence by using employee feedback to drive change and improve their overall experience.
Easily Accessible Data
Are you lacking true insights into how employees really feel about your organization? Paycor Pulse offers the data you need to tackle problems head on.
Employee Feedback Solution Trusted By Users & 3rd Party Evaluators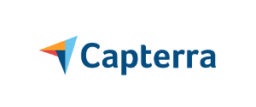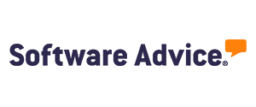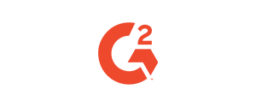 Build Action Plans Based on Employee Sentiment
What an employee perceives— based on what they hear, see, feel and think —is usually what they believe. As a leader, you can't always control what happens, but you can help shape and guide the way your team members process their experiences. To move the needle on employee satisfaction, an organization must become self-aware and understand its own DNA. Leaders who listen can have the conversations necessary to infuse accountability into the company culture, causing an increase in commitment to work and employee morale. With effective survey software like Paycor Pulse, you can promote accountability and take the necessary steps to respond to employee feedback.
Executive Insights —
Easily share pulse survey results, analysis summaries and dashboards with your leadership team.
Drive Performance —
Access the data and analysis you need to build and maintain a high-trust culture that directly impacts performance.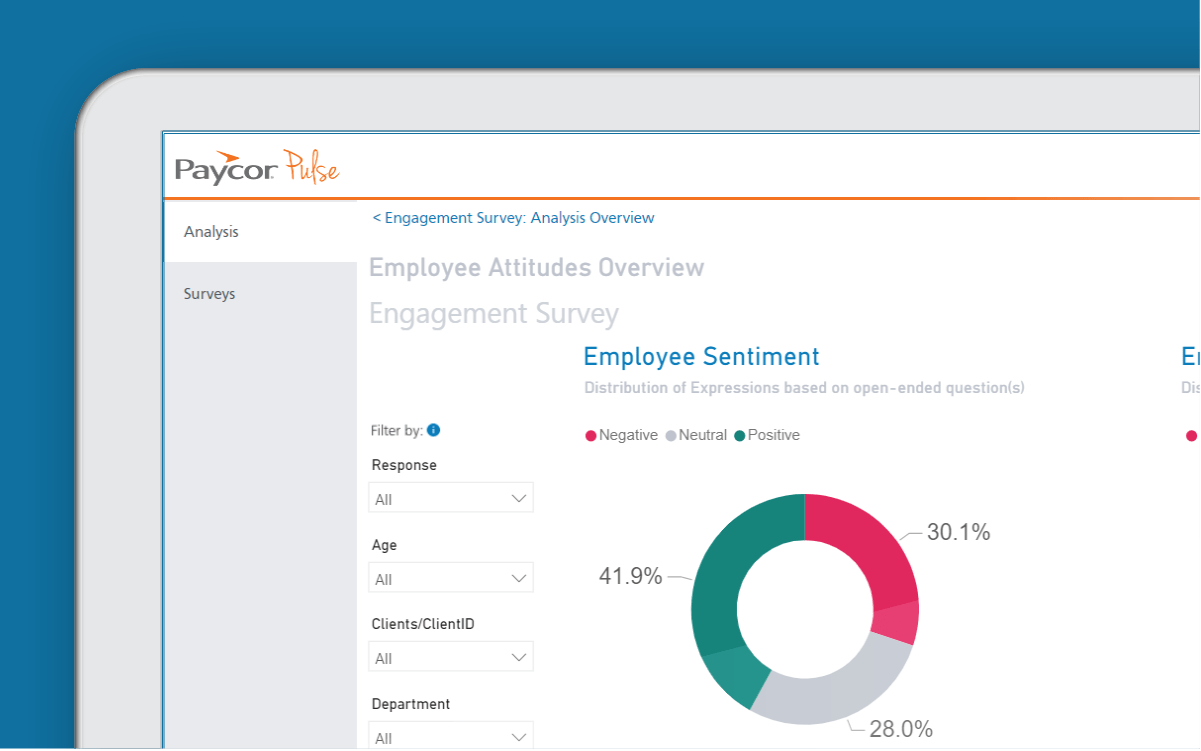 Survey Tools + Technology —
Natural Language Processing takes raw data and helps uncover variances and concerning outliers.
Empower Employees —
Give your people a voice by regularly gauging what and how they're feeling at any given moment.
Make Feedback a Priority
Paycor's employee pulse survey software helps promote a positive employee experience by giving HR leaders the tools they need to capture, analyze and respond to feedback and concerns. Click below to see how.
Give Your People a Voice
The goal for any HR leader is to promote a positive employee experience, and help individuals develop and reach their career goals. Understanding how employees feel about the work environment, their benefits, managers and their role greatly enhances the workplace dynamic. And, employees who are heard and thoughtfully guided in their career become advocates for the company —often becoming your best referrals. When employees trust that every decision the leadership team makes is grounded in reality and with their feedback in mind, they feel valued and heard.
Engagement + Benefit Templates —
Meet employees where they are to check-in, collect feedback, gauge satisfaction, or assess topics that are top of mind.
Know What Matters —
When leaders know what matters most to their teams, they can celebrate what's working and make improvements to what isn't.
Custom Filters —
Filter your survey results and drill down into employee demographics or workplace categories.
"Paycor Pulse is a fantastic way to keep in contact with employees and see how they're feeling about the company. The best part is it keeps answers confidential which makes it easy for employees to give their honest opinion."
– Adrienne H., Romantix
"With our previous provider, getting answers—or a response—was a painstaking process. With Paycor, we have an amazing team that guides us through HR processes and keep us compliant."
Zeke D., People & Culture Manager, What If Syndicate
"Paycor is a one-stop-shop with great customer service and that service does not stop after implementation. I consider Paycor to be a true partner."
Mia J., Director of HR, Smuttynose Brewing
Are survey responses confidential?
Before selecting recipients, you'll need to determine if the survey is confidential or non-confidential. Employee will be informed which option you choose before they begin the survey.
Confidential surveys require a minimum of 5 survey recipients and 5 submissions to protect employee identity.
Non-confidential surveys can be sent to any number of recipients.
What survey templates are available?
Single question Pulse survey – quick check-in that captures and categorizes what's top-of-mind for employees in their own words.
15-question engagement survey – helps establish a baseline or capture an annual snapshot of your organization. In addition to the open-ended employee experience question, this survey presents thematic questions that employees answer with a rating (Likert scale).
Benefits survey – offers insights into what employees think about your organization's benefits policies.
Build a survey from scratch.
What open-ended question is asked on the Pulse Survey?
"Please use this space to tell us about your experience at 'Company' in as much detail as possible."
What questions are asked on the Engagement Survey?
The Engagement Survey has 15 questions. The first question is open-ended, while the remaining 14 are rating-scale questions (1-totally disagree, 2-slightly disagree, 3-neutral, 4-slightly agree, 5-totally agree).
Please use this space to tell us about your experience at 'Company' in as much detail as possible.
Employee turnover at 'Company' does not have a negative impact on my experience at work.
Employee turnover does not prevent 'Company' from achieving its goals.
The leadership of 'Company' is doing a good job.
The leadership of 'Company' has a good relationship with the employees.
'Company's' current remote work policy is helping 'Company' achieve its goals.
'Company's' current remote work policy has a positive impact on my experience at work.
I'm happy with my prospect of getting a raise I deserve.
My current salary meets my expectations.
Overall, my experience has been good throughout my entire tenure working at 'Company'.
My experience working at 'Company' has been good in the last three weeks.
My supervisor is good at his/her job.
My supervisor and I have a good relationship.
The physical condition of my workplace is adequate for me to do my work.
I'm happy with the physical environment of my workplace.
Is there any data required to be set up on employee profiles that is important to the survey launch and analysis dashboard?
An employee's personal or work email address is required to be in their profile to select the employee as a recipient at survey launch. Their work email is used as a primary email to send the survey. If a work email is not available, the survey will be sent to an employee's personal email if available in the system. If both a work and personal email are available, the system will only send the survey to the work email.
The analysis dashboard maps survey results directly to the demographic data housed in the Paycor platform at the time the survey is launched. These demographics can be filtered to allow leaders to understand the unique experiences of a specific group or population, while maintaining employee confidentiality. The demographic data includes age, Client ID (FEIN), department, disability information, employee type, ethnicity/race, gender, manager, status, tenure, veteran status.
When creating a survey, are the title and instruction fields required?
For Pulse admins to move through the survey creation, both a survey title and introduction/instructions are required to be populated. This is also true for the steps that follow: selecting more than five recipients, composing email subject, composing email content.
Can Pulse Admins export the analysis data to present to their organization's leaders?
Pulse admins can download/export to PDF and subsequently send the results via email to the leaders within their organization. They also can print the results.
When will a Pulse Admin be able to see the analysis for a survey?
After a survey closes, results are immediately available in the Analysis tab. If the status of your analysis says "Available," that means your results are ready to review. If the word "Details" appears under status, this means an analysis cannot be generated based on insufficient data. Typically, this is tied to too few responses.

Resources
By the time you collect and analyze results from engagement surveys, the findings are likely outdated. Tap into the pulse of your organization with regular and timely surveys. Learn more.
Article
Read Time: 6 min
Understanding employee engagement starts with surveying employees. Learn how to conduct the survey and understand the results.
Article
Read Time: 7 min
The only way to really understand why people leave (or stay) is by asking them. In this article, we'll examine the importance of an employee engagement survey.