Employee Management Software
Avoid Costly Errors + Automate HR
Your time is too valuable to master the complexities of payroll, HR and tax compliance. Paycor helps you stay ahead of the curve, manage employee info in one place, and process payroll quickly and accurately. Speak to a representative today, call 866-988-6084.
30 Years of Experience
Paycor has more than 30 years in the HCM industry.
Over 2.3 Million Users
Our HR and payroll solutions support over 2.3 million users across all 50 states.
Best-in-Class Implementation
We provide the hands-on guidance, expert support and tools needed to ensure a seamless transition.
Software for Small Business
Unlike some competitors, we don't sell one-size-fits-all technology. Instead, we tailor technology to your business needs.
One Unified HR & Payroll Solution That Grows with You
Leave Payroll Taxes to the Experts and Focus on Your Business.
Payroll processing has never been easier. With built-in workflows and flexibility to add columns, calculate gross-to-net pay, or pre-schedule payruns to automatically process on a specific day and time, Paycor helps you eliminate hours of work and process payroll accurately.
Stress-Free Tax Compliance
Struggling to keep up with tax and compliance changes? Trust Paycor to help you stay ahead. Our payroll product is automatically updated with tax laws and employment regulations relevant to your region and industry.
Control Labor Costs and Seamlessly Manage Expense Reports
Tired of manually enter hours worked in your payroll solution? Keep employee data accurate and avoid repetitive work with Paycor Time. Easily view and manage all time off requests and hours worked in one place. Plus, time data flows automatically to payroll with one click so you're not entering hours in multiple locations. And with Paycor Expense Management, employees can submit expenses from anywhere using a mobile device, managers receive alerts for quick approval, and reimbursements flow seamlessly to payroll so you're not switching to a third-party provider.
Overtime Dashboard
Paycor Time allows you to break down hours worked by department, manager, and location so you can stay on top of expenses and improve budgeting.
Compliance is a moving target. Trust Paycor to help you stay ahead of the curve.
With proactive alerts, compliance dashboards, document acknowledgment and e-signatures, Paycor helps you simplify compliance management and reduce risk.
HR Support
Stop searching online for answers and templates. HR Support Center has a library of compliance resources including news alerts, FAQs, guides, letters, forms, templates, and more.
Work Opportunity Tax Credit (WOTC)
Paycor can help reduce your federal tax liability by up to $9,600 per new employee when you hire from groups who have faced barriers to employment, such as veterans, residents in areas designated as empowerment zones, and the long-term unemployed.
Remove Complexity
Paycor screens job candidates for WOTC eligibility and automates the payroll process on the backend. We also do the heavy lifting — maintaining accurate records, reporting tax credit activities, and meeting deadlines.
Employee Retention Credit (ERC)
Everyone is still trying to control costs and do more with less. The Employee Retention Credit (ERC) was created to reward businesses for keeping employees on their payroll during the pandemic, and it's still available today.
Reduce Your Tax Bill
If your business experienced a decline in gross receipts of 20% year over year, you could claim a payroll tax credit of 70% of qualified employee wages (up to $10,000 per employee per quarter). Don't miss out!
HR & Payroll Solutions for Small Businesses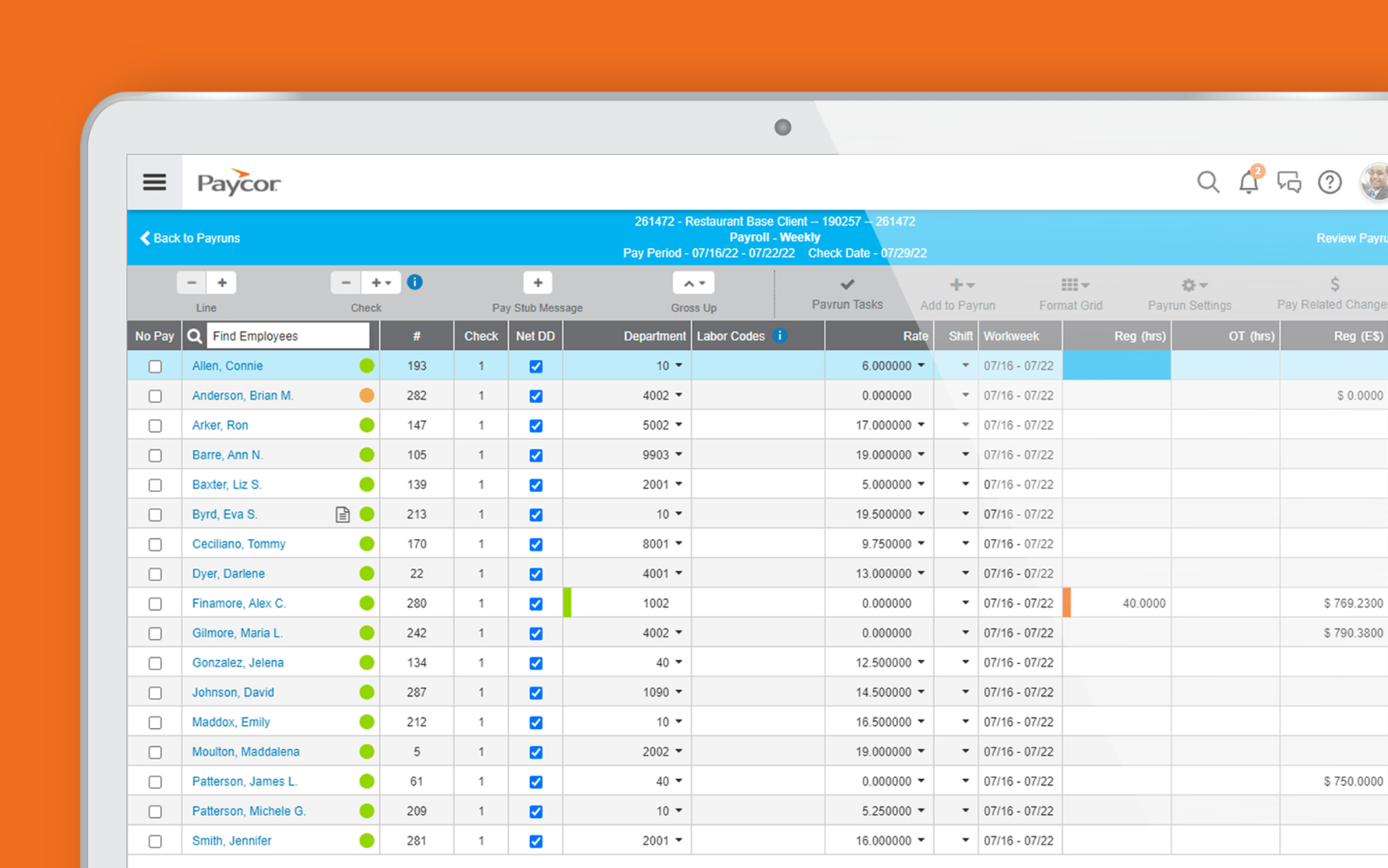 Stress-Free Payroll —
Our solution is flexible – no waiting for changes. Make edits, view reports, run payroll, and get time back in your day.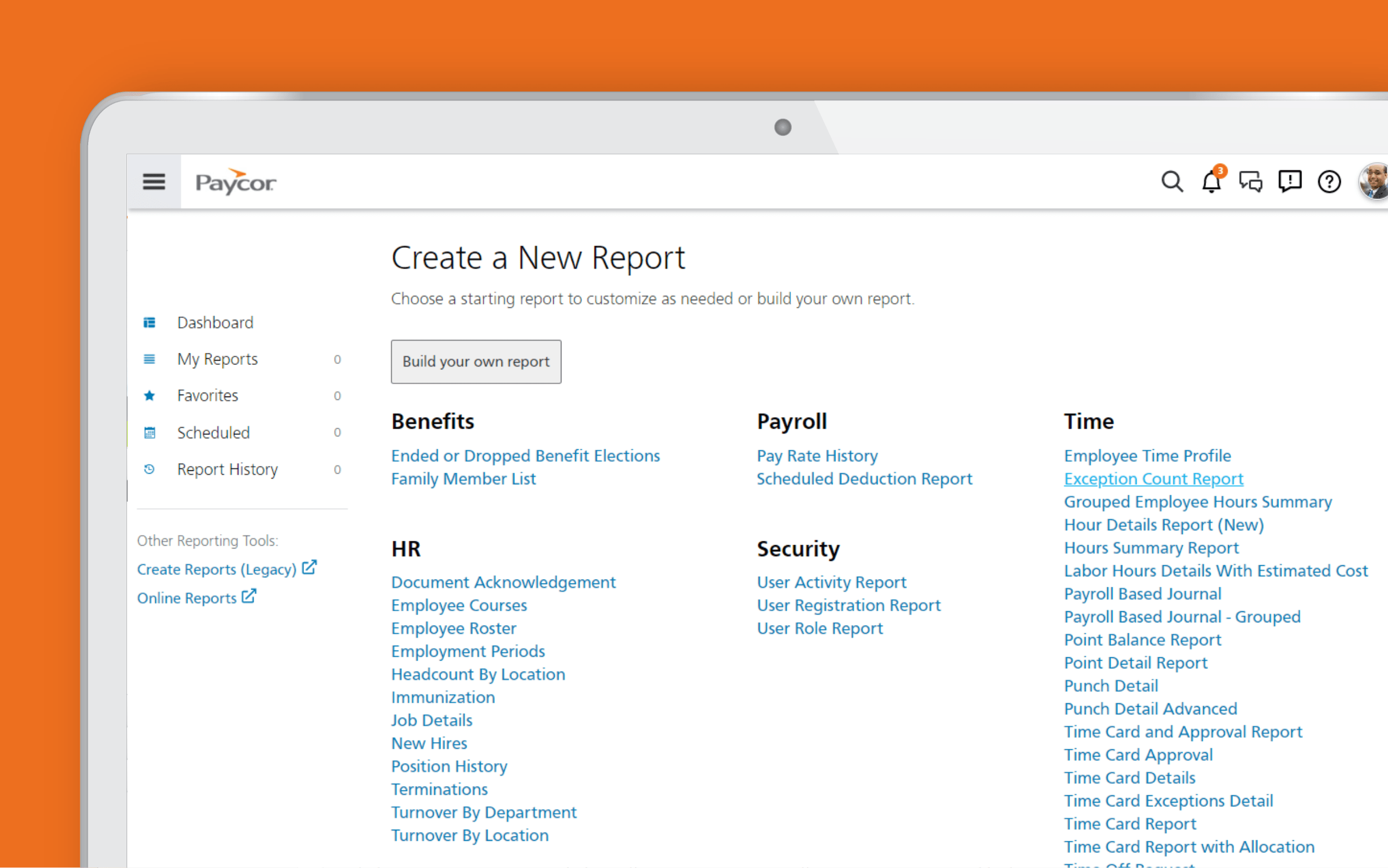 Powerful Reporting —
Easily create, schedule, and share custom reports with just one click and access pre-built templates to make reporting more efficient.
HR Resources —
Our HR Support Center features a library of must-have resources including toolkits, forms, law alerts, articles, templates, and more.
Employee Onboarding —
Empower new hires to fill out information and acknowledge documents from a computer or mobile device prior to their first day.
Explore Everything Paycor Offers
Paycor's human capital management (HCM) platform modernizes every aspect of people
management, from payroll and recruiting to onboarding and career development. Tour our product today to see how we can help your business.
Best-In-Class Partnerships
Modern, flexible integrations that complement any product suite. Seamlessly connect your
people and business needs with Paycor
Retirement
Labor Law Posters
Tax Credits
Background Screening
OnDemand Pay
Job Boards
Paycards
"Our staff loves using Paycor Scheduling. They can set notifications, pick up or trade shifts. I'm no longer the middle man."
– Shanna B., Manager, Red Bluff Pet Resort
---
Talk to Our Experts
Our team is ready to learn more about your business and your current challenges. Contact us today.
PHAgY2xhc3M9Imhhcy10ZXh0LWFsaWduLWNlbnRlciI+PHN0cm9uZz5UaGFuayB5b3UgZm9yIHJlYWNoaW5nIG91dCB0byB1cyE8L3N0cm9uZz48YnI+V2Ugd2lsbCBnZXQgaW4gdG91Y2ggd2l0aCB5b3Ugc2hvcnRseSB0byBkaXNjdXNzIHlvdXIgbmVlZHMuIENoZWNrIHlvdXIgaW5ib3ggZm9yIGEgY29uZmlybWF0aW9uIGVtYWlsLjwvcD4=

Resources
Get the expert advice and thought leadership you need to help your clients solve their toughest business challenges.
Article
Read Time: 5 min
Effective staff scheduling is one of the key challenges of multi-generational workforce management—but scheduling software can help empower and assist.
Article
Read Time: 6 min
Worker absenteeism can be costly for employers. Control attendance by understanding the root causes outlined here.
Article
Read Time: 6 min
HR teams have a big role to play in growing a small business. Here are our top business growth tips for HR, from managing labor costs to HR technology.
Get 50% off for the first 6 months