HCM for Retail
HR Software Built for Retail
Paycor delivers true technology and expertise tailored to retailers, offering a specialized program based on based 30+ years of industry service. Speak to a representative today, call 855-565-3291.
105k Retail Employees Paid
As payroll compliance becomes more complex, retailers need to be able to pay people accurately and on time.
2,200+ Retail Customers
From onboarding workers to reducing turnover, Paycor helps retailers solve problems.
30+ Years in the Industry
The last thing retailers need is off-the-shelf, generic solutions. That's why leading retailers partner with Paycor.
Key Features
Paycor has been listening to and partnering with leading retailers for decades, so we know what you need.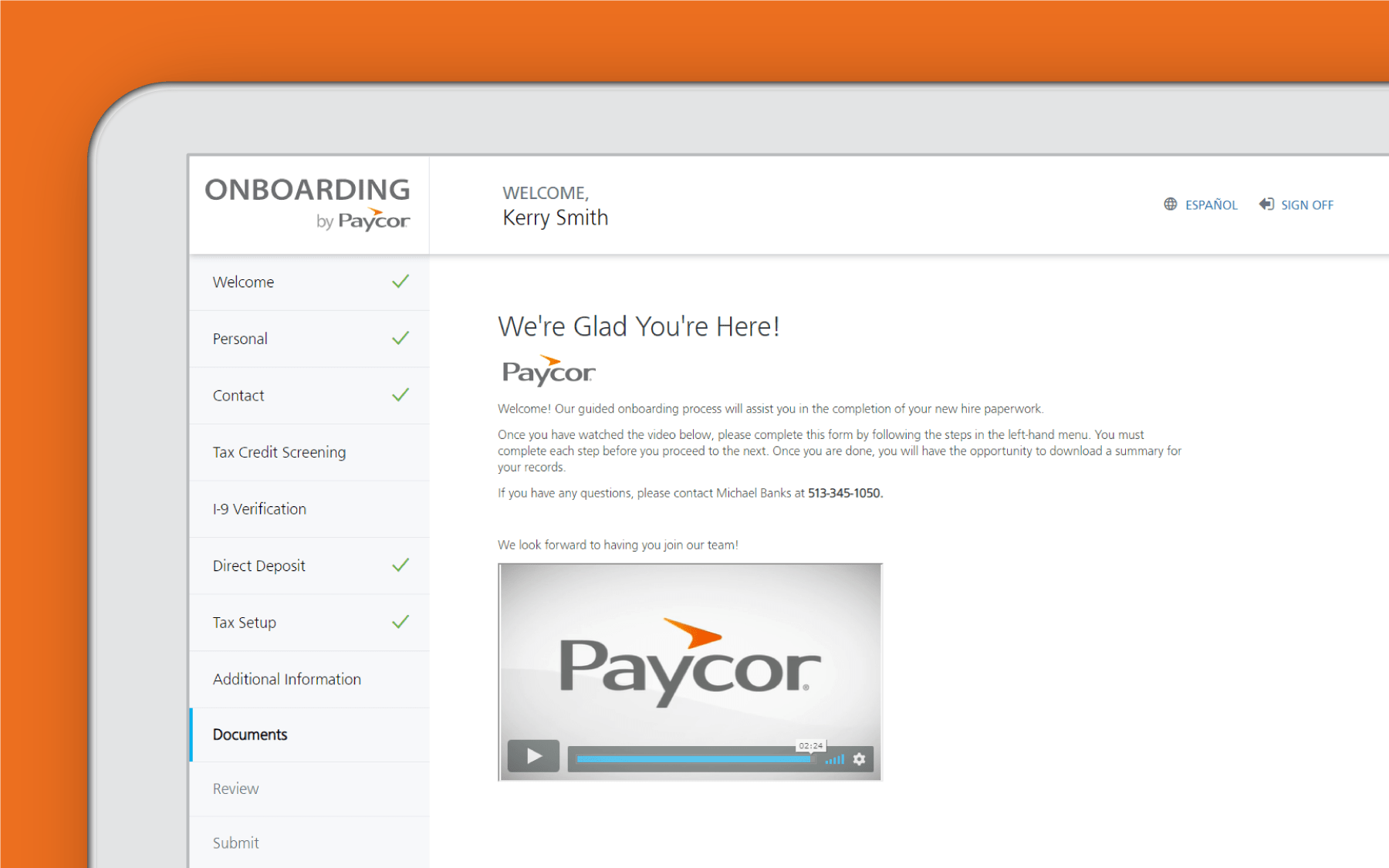 Increased Employee Engagement —
Engage new hires before their first day with company information, handbooks and other policies
Unified System of Record —
Retailers can eliminate costly errors by offering one single source of truth for employee data across Time, Payroll and HR solutions.
Attendance Management —
Easily identify potential timecard issues and make changes in one place. Proactive alerts will notify retailers of errors.
Employee Referral Program —
Retailers can tap into current employees to expand reach and attract high-quality candidates quickly.
Want to Learn More?
Paycor's HR solutions modernize every aspect of people management, from the way you recruit, onboard and develop people, to the way you pay them, retain them and build a company culture.
Best-In-Class Partnerships
Paycor works with trusted partners to ensure we're meeting the needs of the retail industry.

"With Paycor, there's so many features—there's a solution for a solution. Other companies might have helpful solutions, but it's not integrated like Paycor. It's amazing how it works."
– Karyn Reiheld, Controller, Certasite
---
"The whole HR Support Center and training hub is amazing. Regulations are ever-changing, and Paycor helps me keep up to date state-by-state."
Adrienne Hernandez, HR Specialist, Romantix
"Paycor's Recruiting and Onboarding solutions have helped reduce our average time-to-hire from 26 days to 16 days, saving us weeks every year and thousands of dollars."
Crystal Weaver, Vice President HR, AMFM
Talk to Our Retail Experts
With our consultative approach and ongoing customer service tailored to your industry, we're the best HR + payroll provider for retailers.
PHAgY2xhc3M9Imhhcy10ZXh0LWFsaWduLWNlbnRlciI+PHN0cm9uZz5UaGFuayB5b3UgZm9yIHJlYWNoaW5nIG91dCB0byB1cyE8L3N0cm9uZz48YnI+V2Ugd2lsbCBnZXQgaW4gdG91Y2ggd2l0aCB5b3Ugc2hvcnRseSB0byBkaXNjdXNzIHlvdXIgbmVlZHMuIENoZWNrIHlvdXIgaW5ib3ggZm9yIGEgY29uZmlybWF0aW9uIGVtYWlsLjwvcD4=

Resources
In our resource center you'll find articles, guides, webinars, infographics and more — all designed to help retail leaders unlock the true power of HR.
Infographic
Read Time: 1 min
View our interactive infographic to discover the 5 types of hourly workers from a survey of more than 200 workers from 5 industries.
Case Study
Read Time: 3 min
Rapid growth for veterinary management practice group CareVet meant they needed a HCM partner who could manage onboarding new team members weekly.
Case Study
Read Time: 5 min
In 2021, Redeemer transitioned to Paycor, which led to a full audit of their payroll process. Recruiting and applicant tracking makes hiring teachers a breeze.
Article
Read Time: 7 min
Are you an employer hiring for the upcoming holidays or summer break? Be sure you're up to date on the seasonal employment laws. Start here.
Article
Read Time: 7 min
If you're scheduling employees with a spreadsheet, you're fighting an uphill battle. See how to refresh the schedule making for your retail location.
Article
Read Time: 4 min
It's not unusual for employees to need to change work shifts. Read these 4 tips on creating an effective shift swapping policy for your organization.