HR Analytics Software
Actionable Insights for
Your Business
Take the complexity out of HR analytics with technology that provides real-time insights and benchmarking. Make better decisions with data and easily create custom dashboards, perfect for sharing. Speak to a representative today, call 855-565-3291.
More than 40,000 businesses nationwide trust Paycor*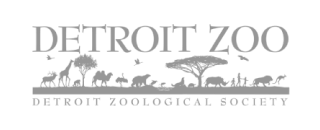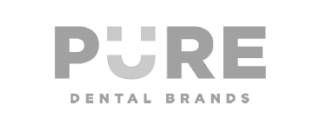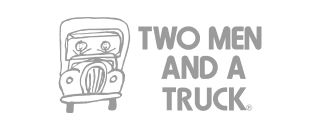 4.5/5 (2065 Reviews)
Paycor online platform has saved hours in payroll processing time. I have the flexibility to process payroll when it is convenient for me.
JENNA DALGETY
Office Manager
Zanies Comedy Night Club
With Paycor's onboarding solution, adding new hires takes me very little time. I also love that you can store documents online.

LAURA SPRADLEY
Director of Brand Development
Goo Goo Cluster
The overall experience is good as the program fulfills its purpose well, making life easier for companies that need payroll software.

NANCY FLIPPIN
CFO
MANNA Foodbank
Working with Paycor has cut our payroll processing time down from almost a full day to one hour. We also have more visibility.

AMANDA D.
Marketing Director
Hospital & Health Care
Paycor is more than just a time- keeping software. Employees can put in their hours and PTO requests, and can see their pay stubs and benefits.

LINA M.
Hospital Administrator
Hospital & Health Care
The software is rapidly updated with changes of times such as setting up new earnings codes for COVID related leaves. Easy to use.

LINCOLN M.
Financial Assistant
Non-Profit Organization
High-impact, Easy-to-Consume Data Insights
Paycor Analytics takes the complexity out of workforce analysis and planning. It all starts with giving HR Leaders what they need: high-impact, easy-to-consume, real-time data insights. Our HR analytics software provides answers to hundreds of pre-built questions about your workforce, populated by your data.
And we take it one step further by offering predictive analytics that helps you better understand what motivates your employees and identifies trends in behaviors. With record employee turnover, HR and business leaders need insights into who is likely to leave, why they're leaving and what they can do to make them stay.
Predictive Analytics for Resignations —
Paycor Analytics uses a predictive data model to identify the probability and extent of employee turnover in the next 12 months.
Transform Data —
HR analytics visualization tools help transform complex data into clear, direct answers.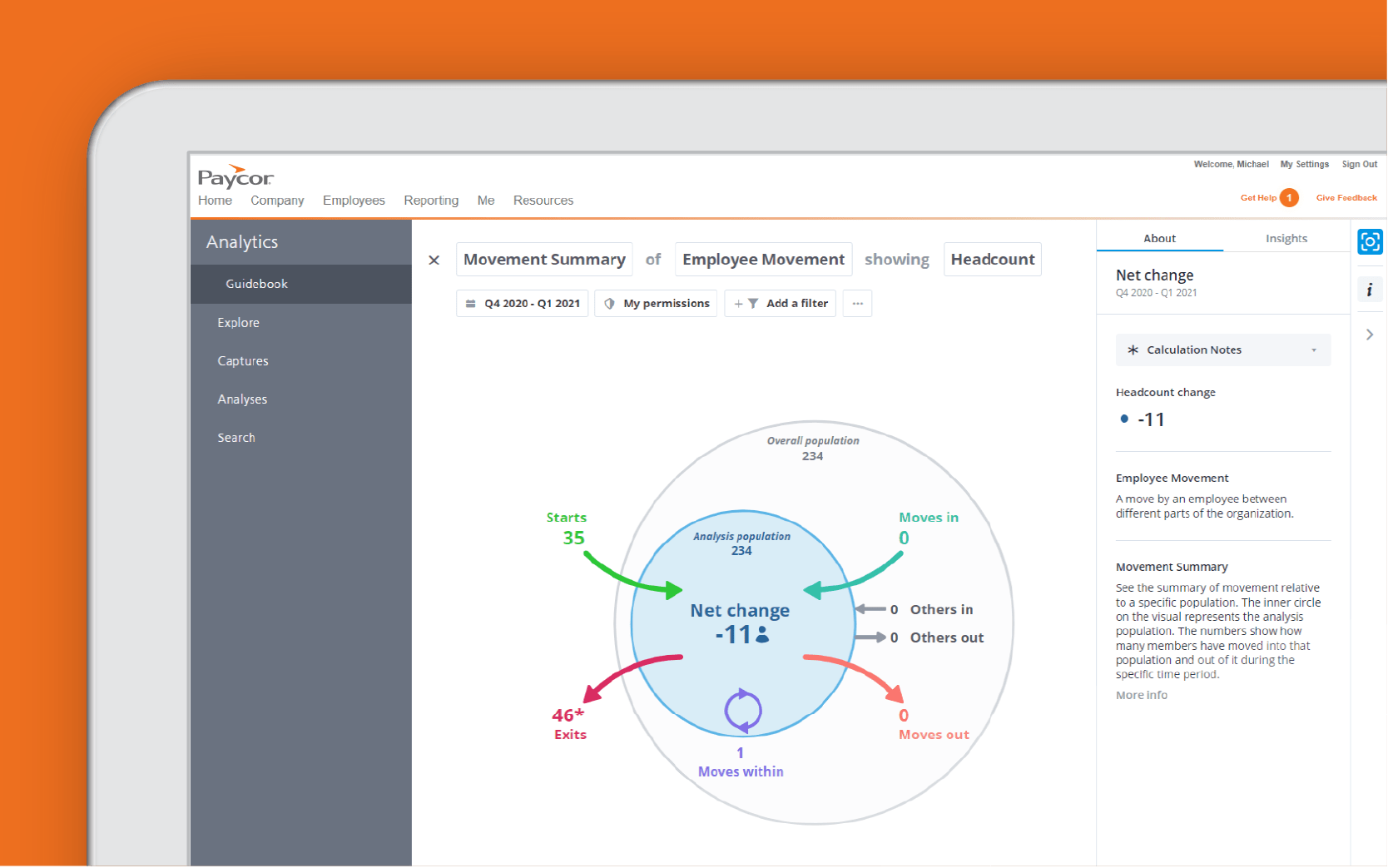 Deeper Insights —
From analyzing headcount to monitoring turnover, discover what factors are causing change across your workforce.
Competitive Advantage —
Leverage competitive workforce analytics data to see how you stack up to your peers.
Make an Impact Today
See how Paycor's HR analytics tools help you use workforce data to pinpoint problems, make critical business decisions and plan for the future.
Benchmark Against the Competition + Boost Productivity
Who's at risk for resigning? Which locations are experiencing the most turnover? Which employees are most likely to leave in the next 12 months? We help you answer the right questions about your workforce with actionable data and predictive analytics that can be instantly shared via email with others in your organization.
Powerful Benchmarking —
See how you stack up against the competition by leveraging EEOC government data that can be filtered and sorted across different parameters.
Increase Productivity —
Predict absences and resignations, reduce overtime hours, increase productivity and other KPIs based on historical data.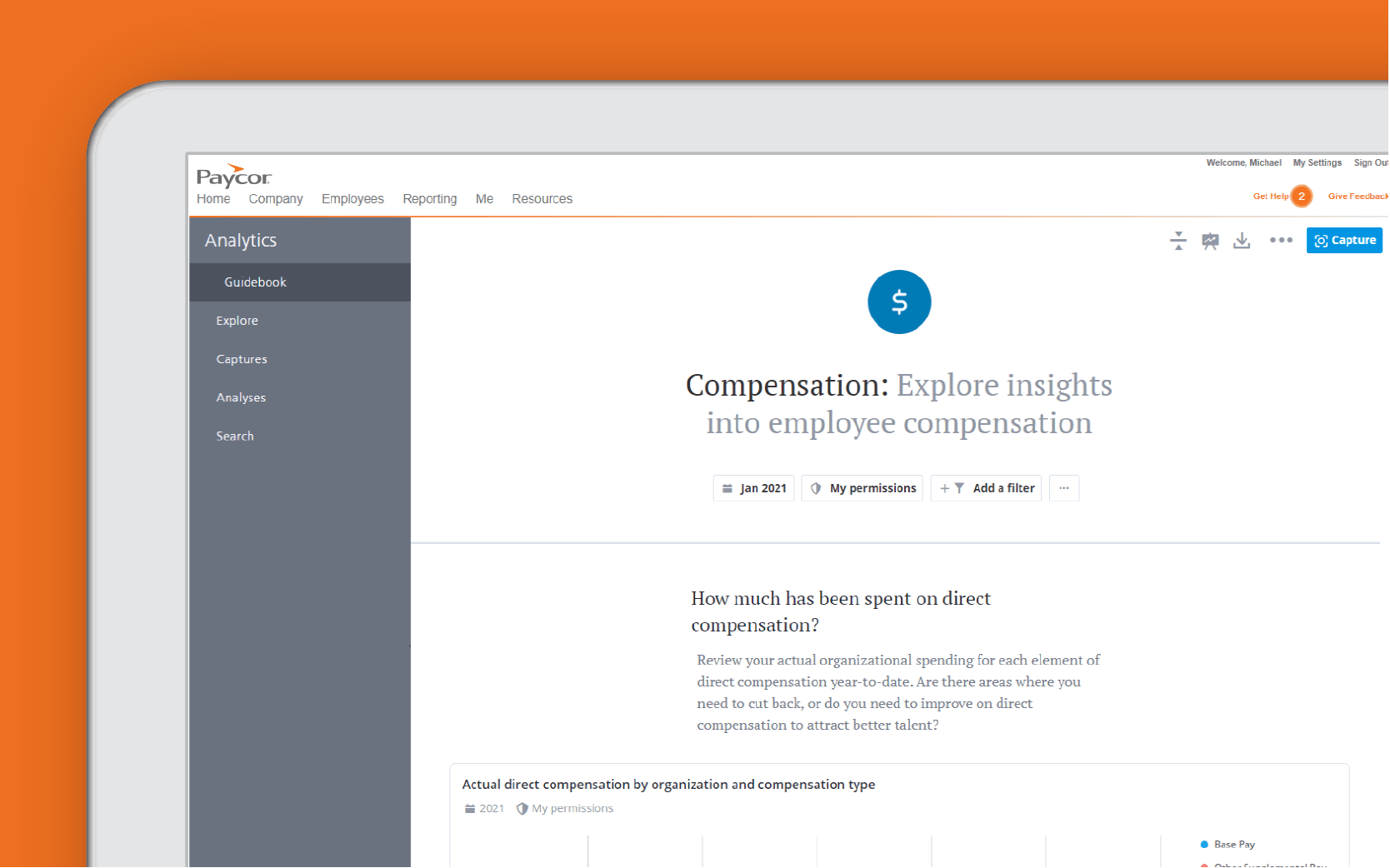 Analyze Compensation —
Compare compensation across various attributes including department, location and job title to ensure compliance and monitor pay equity.
Monitor Employee Turnover—
The embedded analytics feature in the Employee Summary Page makes it easy to identify compliance risks and monitor trends of employee exits by department.
Configured for Your Industry
Recruit and hire skilled nurses, dynamically schedule staff, and boost engagement and retention with Paycor's configurable software.
Recruit skilled labor, optimize coverage, and track and analyze labor costs with Paycor's configurable software.
Speed up the recruiting process with same day hire, streamline with custom hiring workflows, offer workers OnDemand Pay and self-service on an award-winning mobile app.
Save time with a unified, mobile-first experience intuitively designed for leaders and gain deeper insights about your business with powerful analytics.
Maintain compliance, pay adjuncts and staff accurately and on time, schedule staff at multiple campuses, recruit qualified talents, and get up to speed faster with our industry-skilled implementation.
Recruit, onboard, pay, and schedule workers in a mobile-first environment. The last thing retailers need is a generic solution. That's why leading retailers partner with Paycor.
Pay employees accurately and on-time in a heavily regulated tax environment. Overcome staff shortages, maintain tax compliance, and help tie operations to grant funding.
Make Better Decisions with Data
Eighty-two percent of mid-market organizations say people analytics is important to their growth, with 56% currently mining their HR data to optimize business processes. Why? Because data analytics is becoming a critical competitive advantage, not just a "nice to have."
Paycor's HR and people analytics software enables you to gain deeper insights into important data like turnover, headcount and gender pay equity. You can also gain a holistic understanding of your organization by extracting and compiling key data points across your HR and payroll solutions. And if you're a leader, our HR analytics tools arm you with the data you need to show the true value your department brings to your organization and identify trends before they become problems.
Make Critical Decisions
Analyzing data and sifting through spreadsheets can be overwhelming. Explore how Paycor's analytics software helps you transform complex data into trends and predictions.
Powerful Insights
You don't have to be a data scientist. We pull data from your Paycor platform, crunch it and provide the answers you need. And with embedded analytics, view timely insights and key visuals directly within your Paycor platform.
Identify New Opportunities
Paycor Analytics provides benchmarking capabilities so you can identify opportunities for improvements and compare against your competition across a variety of data points.
Analytics Solution Trusted By Users & 3rd Party Evaluators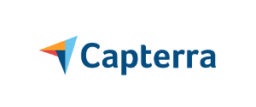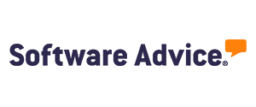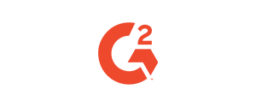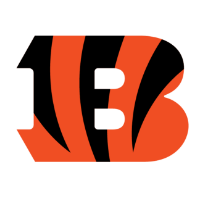 "I'm rarely at my desk. I am either in the control room or on the field; I'm always on my feet. Having that Paycor mobile app to manage my staff really empowers me to be a great leader."
– Alex Schweppe, Game Entertainment Manager
---
Paycor Mobile
With a large contingent of seasonal employees, frontline managers depend on Paycor's mobile app to help manage their team's schedule and hours worked
Payroll & Tax Filing
With multiple pay groups and complex tax rules for players and personnel, the Bengals trust Paycor's 30+ years of experience managing all aspects of payroll and tax filing.

Resources
Get the expert advice and thought leadership you need to help your clients solve their toughest business challenges.
On-Demand Webinar
At Paycor, our goal is to empower HR Leaders with the latest technology advances, so they can focus on what really matters, their people. With Paycor Analytics, say goodbye to messy spreadsheets, time consuming data analysis or making assumptions without the data to back it up.
On-Demand Webinar
What if you could get ahead of job dissatisfaction and spot these red flags before your best employees are even considering their job search?