Compensation Planning Software
Automate

Your Compensation Strategy

Seamlessly plan and execute pay increases, bonuses and rewards across your organization. Speak to a representative today, call 855-565-3291.
More than 40,000 businesses nationwide trust Paycor*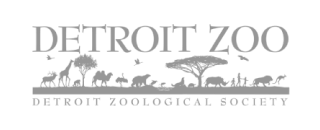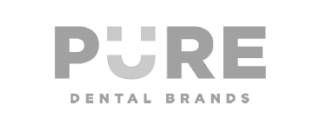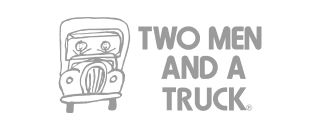 4.5/5 (2065 Reviews)
Paycor online platform has saved hours in payroll processing time. I have the flexibility to process payroll when it is convenient for me.
JENNA DALGETY
Office Manager
Zanies Comedy Night Club
With Paycor's onboarding solution, adding new hires takes me very little time. I also love that you can store documents online.

LAURA SPRADLEY
Director of Brand Development
Goo Goo Cluster
The overall experience is good as the program fulfills its purpose well, making life easier for companies that need payroll software.

NANCY FLIPPIN
CFO
MANNA Foodbank
Working with Paycor has cut our payroll processing time down from almost a full day to one hour. We also have more visibility.

AMANDA D.
Marketing Director
Hospital & Health Care
Paycor is more than just a time- keeping software. Employees can put in their hours and PTO requests, and can see their pay stubs and benefits.

LINA M.
Hospital Administrator
Hospital & Health Care
The software is rapidly updated with changes of times such as setting up new earnings codes for COVID related leaves. Easy to use.

LINCOLN M.
Financial Assistant
Non-Profit Organization
This Is the Key to an
Effective

Compensation Plan

Paycor Compensation Planning empowers HR Leaders and their managers by removing the heavy burden of administering, tracking and executing compensation plans and events. With a single source of truth to manage compensation, you'll never have to rely on spreadsheets or enter data in multiple places. And because compensation is essential to retain and attract talent, we've added automated workflows and guided support tools to help you make more informed decisions about your pay practices while ensuring that salaries, bonuses and employee rewards are equitable and competitive.
Workflows + Notifications —
Automated workflows and notifications via mobile or desktop allow you to execute your compensation plans anywhere, anytime.
Mitigate Risk —
Compensation Planning + our robust People Analytics tool help monitor pay equity while analyzing compensation trends.
Competitive Advantage —
Creating competitive pay practices increases your chances of landing great candidates and motivating top performers.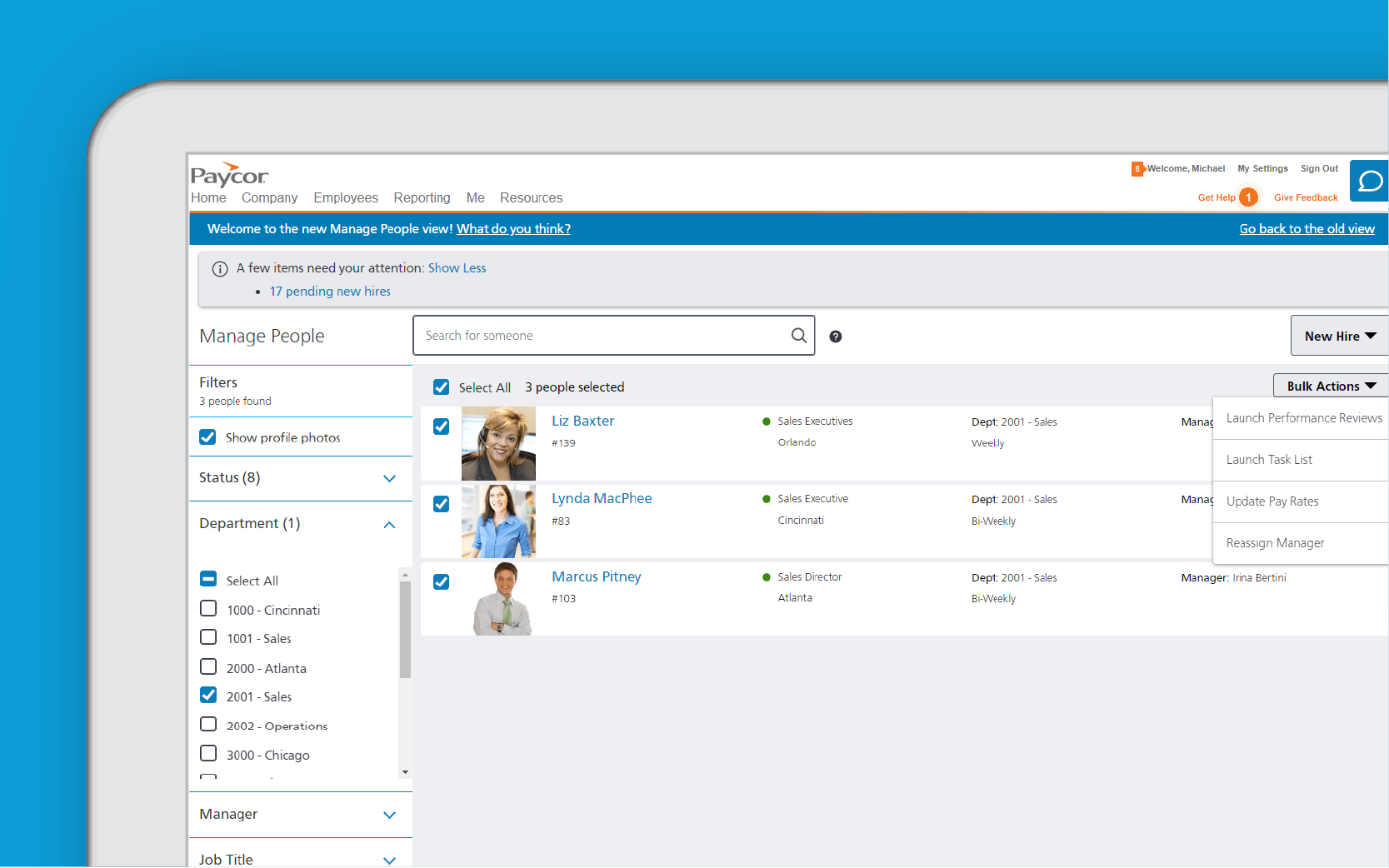 Bulk Updates —
Update pay rates for cost-of-living adjustments for multiple employees at once, or recognize workers with an off-cycle raise.
Build Strategic Compensation Programs
See how Paycor automates compensation management so leaders can focus on developing compensation strategies to attract new talent and reward employees.
Take Planning to the Next Level
When it comes to managing compensation, there's no one-size-fits-all strategy. With so many types of awards and pay options to recruit and reward employees, HR leaders need a solution that offers customization and flexibility.
Complete Customization —
Create rules by department, hire date or employee, assigning future dates to reward your people.
Powerful Insights —
Drill down into specific roles, departments or locations so you can collaborate with managers about pay increases and bonus management.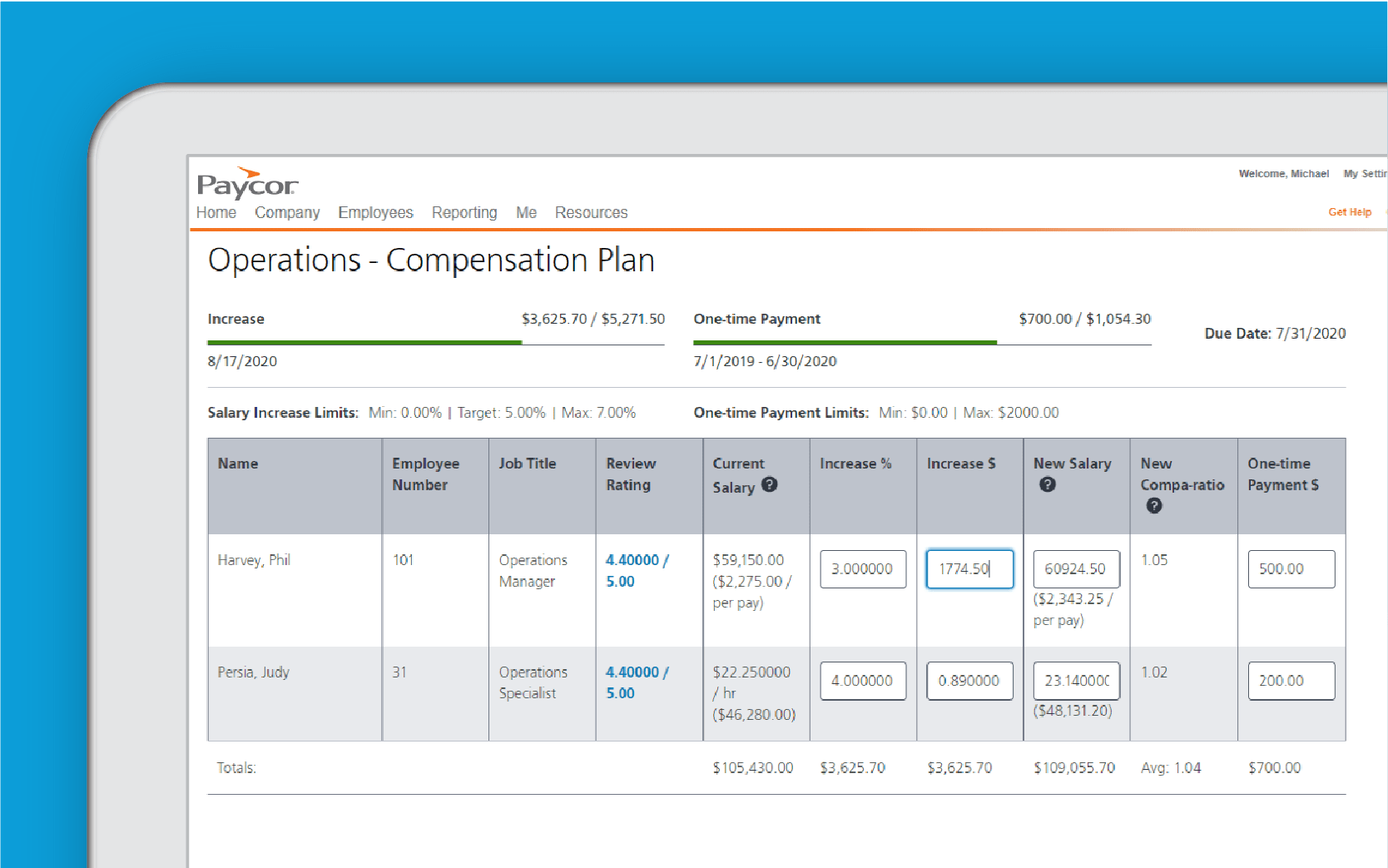 Full Visibility —
Create "what-if" scenarios and view compa-ratios to see the impact and distribution across the team before committing to pay increases.
Configured for Your Industry
Recruit and hire skilled nurses, dynamically schedule staff, and boost engagement and retention with Paycor's configurable software.
Recruit skilled labor, optimize coverage, and track and analyze labor costs with Paycor's configurable software.
Speed up the recruiting process with same day hire, streamline with custom hiring workflows, offer workers OnDemand Pay and self-service on an award-winning mobile app.
Save time with a unified, mobile-first experience intuitively designed for leaders and gain deeper insights about your business with powerful analytics.
Maintain compliance, pay adjuncts and staff accurately and on time, schedule staff at multiple campuses, recruit qualified talents, and get up to speed faster with our industry-skilled implementation.
Recruit, onboard, pay, and schedule workers in a mobile-first environment. The last thing retailers need is a generic solution. That's why leading retailers partner with Paycor.
Pay employees accurately and on-time in a heavily regulated tax environment. Overcome staff shortages, maintain tax compliance, and help tie operations to grant funding.
The Most Flexible Compensation Planning Tool
Get out of the weeds of admin and recordkeeping—once and for all — with Paycor's compensation management software tool. When compensation professionals and HR leaders automate bonuses, merit increases and other awards in one system, it takes the complexity out of compensation planning. As a result, you can focus on building effective compensation programs that help drive recruiting and retention, eliminating workforce challenges like high turnover and missing out on top talent.
Streamline Compensation Events
Compensation Planning allows you to automate events and collaborate directly with managers to eliminate the hassle of rewarding employees.
Eliminate Manual Work
With fully unified compensation planning software, you can manage and execute compensation events, removing manual entry and reducing errors.
Protect Your Organization
By providing you tools to see pay across different attributes, you can better analyze real-time data to ensure fair pay practices.
Compensation Planning Solution Trusted By Users & 3rd Party Evaluators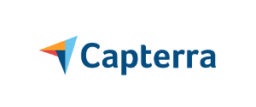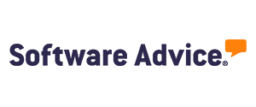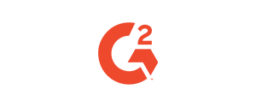 Compensation Planning FAQs

Resources
Pay and Compensation play a critical role in employee retention and recruitment. Watch our on-demand webinar that covers the topic.
On-Demand Webinar
We will demonstrate how to get HR Leaders out of the weeds of admin and recordkeeping and providing managers with tools to make more informed decision about pay practices.
Article
Read Time: 12 min
Compensation planning is not only important for managing your budget, but it could also be the secret sauce for attracting and retaining top talent.
Article
Read Time: 4 min
If organizations don't have a strong compensation strategy in place, they'll lose the ability to motivate employees. See how HR software helps fight the battle!