HCM for HR
HR Leaders
If you're in HR, everyone depends on you. Who do you depend on? Paycor. Only Paycor builds HCM technology for leaders. Speak to a representative today, call 855-565-3291.
Over 2.5 Million Users
Our HR solutions support over 2.3 million users across 50 states.
30+ Years of Experience
Paycor has more than 30 years in the HCM industry.
Best-in-Class Implementation
We provide the hands-on guidance, expert support and tools needed to ensure a seamless transition.
40k+ Businesses
Paycor serves more than 40,000 businesses nationwide.*
Attract + Retain Talent Better than Your Competitors
Everyone is chasing the same talent. That includes the ones you already have on staff. So, you need to keep your pipeline full and make sure the people you hire want to stay.
Paycor Recruiting
Make the way you hire and grow your organization a competitive advantage by building trust with candidates throughout the process.
Dramatically Reduce Inefficiency with a Single Source of Truth for Employee Data
Paycor found that nearly 70% of HR teams waste time on tedious, manual workflows. With a single source of truth for all employee data, you can experience an entirely new level of productivity.
Paycor HR
Get out of the weeds and streamline employee data with automatic updates across your organization every time someone joins or leaves your organization.
Build a Great Place to Work by Understanding Your Workforce on a Deeper Level
We've all heard the adage "culture eats strategy for breakfast." It's true. And HR is uniquely positioned to shape the employee experience to drive results.
Paycor Pulse Surveys
Keep your finger on the pulse of your organization by getting real time, continual insights into how people are thinking and feeling.
Software Spotlight
To see just a few examples of how Paycor builds solutions for HR leaders, explore the software spotlight below.
Employee Recordkeeping —
Access, edit or update all employee information in one place, including timecards, pay rates, contact information and more.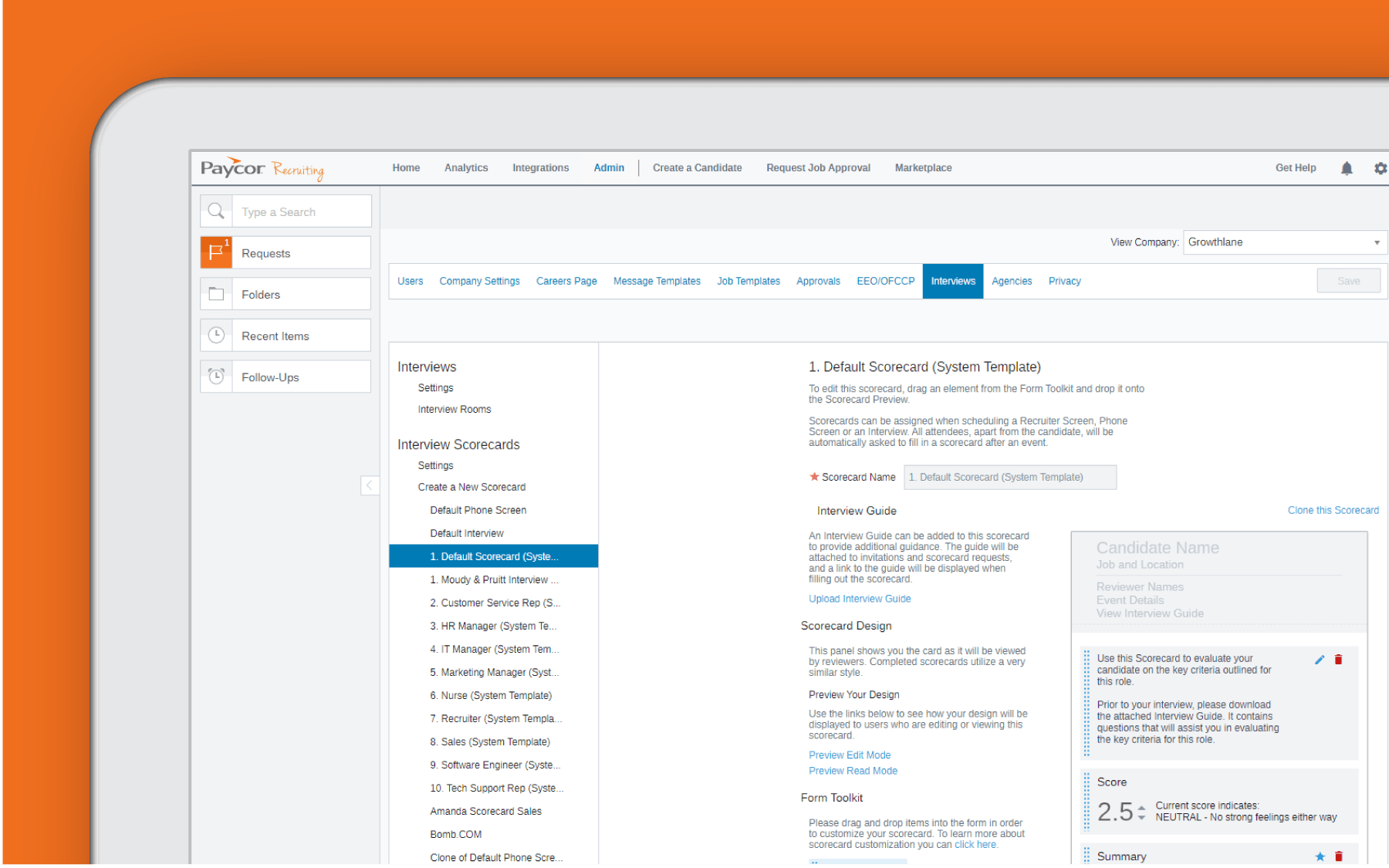 Interview Scorecards —
Save post-interview feedback automatically through easy-to-use scoring.
Drive Performance —
Access the data and analysis you need to build and maintain a high-trust culture that directly impacts performance.
Empower Employees —
Give your people a voice by regularly gauging what they're feeling at any given moment.
Check Out Our Products
Paycor modernizes nearly every aspect of people management, from how you recruit, train, develop and manage people to the way you pay and retain them. Take our Product Tour for a quick overview.
"The single greatest benefit of working with Paycor is the time savings. The solutions are extremely friendly to navigate and I don't spend hours on the phone with support."
– Tiffany K., Organizational Development Manager, Seaway Plastics
---
Talk to Our Experts
From talent development to analytics and compliance, Paycor can help your organization solve problems and achieve ambitious goals.
PHAgY2xhc3M9Imhhcy10ZXh0LWFsaWduLWNlbnRlciI+PHN0cm9uZz5UaGFuayB5b3UgZm9yIHJlYWNoaW5nIG91dCB0byB1cyE8L3N0cm9uZz48YnI+V2Ugd2lsbCBnZXQgaW4gdG91Y2ggd2l0aCB5b3Ugc2hvcnRseSB0byBkaXNjdXNzIHlvdXIgbmVlZHMuIENoZWNrIHlvdXIgaW5ib3ggZm9yIGEgY29uZmlybWF0aW9uIGVtYWlsLjwvcD4=

Resources
Live Webinar
A recent MIT Sloan Management Review article found that one of the biggest contributors to the Great Resignation was toxic work culture. It's time to stop with the mediation apps and extra PTO; as long as workplace bullying persists, people are overworked, and teams don't feel collaborative, you're only headed in circles.
11:00am ET, October 19th, 2023
Live Webinar
Your clients depend on you for top-notch insurance solutions. And when those needs extend into HR and payroll, you can depend on Paycor.
2:00pm ET, December 14th, 2023
Live Webinar
In this partner exclusive webinar, we've invited a panel of Paycor customers from different industries to give you insights and feedback as to why they chose Paycor over the competition.
2:00pm ET, November 28th, 2023
On-Demand Webinar
The C-suite wants to hear from HR leaders about hot button topics like recruiting, learning and upskilling, labor costs and more. Watch this webinar to learn how to put your best foot forward.
Guides + White Papers
Read Time: 0 min
There's a mental health crisis in America and HR leaders are on the frontlines. Get actionable advice to help your people thrive.
Guides + White Papers
Read Time: 2 min
Get to the next level of HR with a combination of technology and expertise. Start by downloading the free guide.