Invest. Inspire. Ignite.
Let's Be Agents of Change,
Together
Everyone has a distinct point of view, a unique perspective, from where they sit. How can you use yours to elevate others and create new opportunities at your organization?
Let's Have Candid Conversations
Let's Build Trust

Let's Empower Our Colleagues

Let's Foster New Leaders

Let's Hold Each Other Accountable
A Forum for
Championing

Equality

Perspectives+ is a diversity, equity and inclusion initiative powered by Paycor and you. It's a place where you can find collaboration tools and resources such as articles, templates, presentations and more that help promote DE&I best practices, with a special focus on promoting women, communities of color, and people from historically marginalized groups.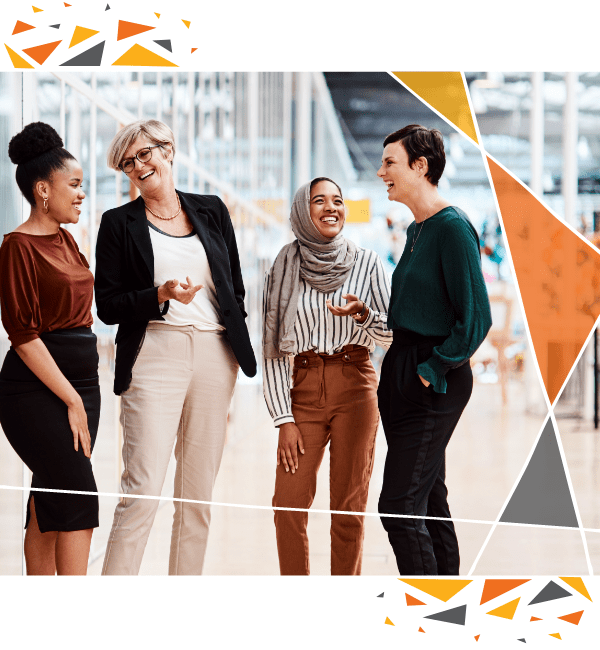 QUIZ: How are DE&I Efforts at Your Organization?
Diversity, equity, and inclusion in the workplace can lead to increased employee engagement and retention. It can also impact a company's bottom line. Do you know how DE&I efforts are going in your organization? Take this quick quiz to find out where you stand!
New DE&I
Resources
Discover why women leaders tend to leave their positions. Learn how organizations can foster an inclusive environment to retain and empower women leaders effectively.
Perspectives+
Resource

Library
A diversity of perspectives makes organizations smarter, stronger…more able to adapt and grow.
Paycor Solutions to Help Your DE&I Efforts in the Workplace
Learning how to measure diversity, equity, and inclusion in the workplace is just the beginning. Discover how Paycor can help improve your overall DE&I efforts.
Women comprise what percentage of senior roles in your organization?
[yop_poll id="4″]
Kira Kimball, MSEd, MA
Chief DE&I Officer, Marsh McLennan Agency
Kira Kimball serves as Chief Diversity, Equity & Inclusion Officer for Marsh McLennan Agency, where she provides vision and strategy to advance MMA's diversity, equity & inclusion aspirations.
Companies with more than 30% women on their executive teams are significantly more likely to outperform their competitors.
Source: McKinsey
On-Demand Webinar: Understanding Bias and Taking Action
One of the most frustrating things about bias is that many of us are unaware. But, we can become highly effective when we are willing to uncover biases, understand how they impact others and consciously work to eliminate them. In this session, we will explore the types of biases (conscious and implicit), how bias shows up in our workplaces, and how to take action when it occurs. Participants will also review the foundations of diversity, equity and inclusion (DEI) and how emotional intelligence skills can improve recognition of bias within the self and in others.
How Paycor Can

Help
Paycor helps you gain actionable insights for your business. From using Pulse Surveys to gauge employee sentiment to HR and people analytics that can identify trends on turnover, headcount and gender pay equity, Paycor helps leaders create great places to work.