Talent Development
Create a Culture of
Continuous

Development

Move beyond the once-a-year employee review and enhance talent development across your organization with a modern performance management system. Speak to a representative today, call 855-565-3291.
More than 40,000 businesses nationwide trust Paycor*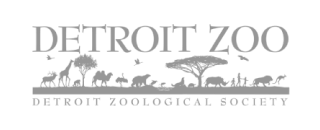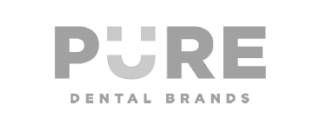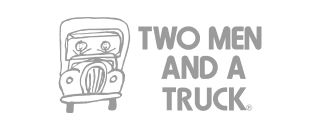 4.5/5 (2065 Reviews)
Paycor online platform has saved hours in payroll processing time. I have the flexibility to process payroll when it is convenient for me.
JENNA DALGETY
Office Manager
Zanies Comedy Night Club
With Paycor's onboarding solution, adding new hires takes me very little time. I also love that you can store documents online.

LAURA SPRADLEY
Director of Brand Development
Goo Goo Cluster
The overall experience is good as the program fulfills its purpose well, making life easier for companies that need payroll software.

NANCY FLIPPIN
CFO
MANNA Foodbank
Working with Paycor has cut our payroll processing time down from almost a full day to one hour. We also have more visibility.

AMANDA D.
Marketing Director
Hospital & Health Care
Paycor is more than just a time- keeping software. Employees can put in their hours and PTO requests, and can see their pay stubs and benefits.

LINA M.
Hospital Administrator
Hospital & Health Care
The software is rapidly updated with changes of times such as setting up new earnings codes for COVID related leaves. Easy to use.

LINCOLN M.
Financial Assistant
Non-Profit Organization
A Clear Path to
Success
Even before 2020 disrupted corporate work environments, few Human Resource leaders were satisfied with their performance management approaches. The 2019 Gartner Performance Management Benchmarking Survey revealed some startling statistics. First, 81% of HR leaders planned to make changes or overhaul their performance management program. Second, 82% acknowledged that performance management wasn't effective at achieving its primary objective: motivate employees by aligning their personal goals with the company objectives.
It's time to make performance management the secret sauce that drives recruiting, retention, revenue and culture. Paycor can help you build an effective talent development program by shifting to more frequent coaching conversations that ensure employees are focused on the right priorities, receiving the direction they need to be productive.
Ongoing Conversation —
Our 1-on-1 tool streamlines conversation between managers and direct reports with customizable, preloaded templates.
Engagement Culture —
Improve and manage the communication loop between peers, teams, and your entire workforce with our Talent Rollout Page. Test and control which features your organization can see and allow you to train your organization at the right pace.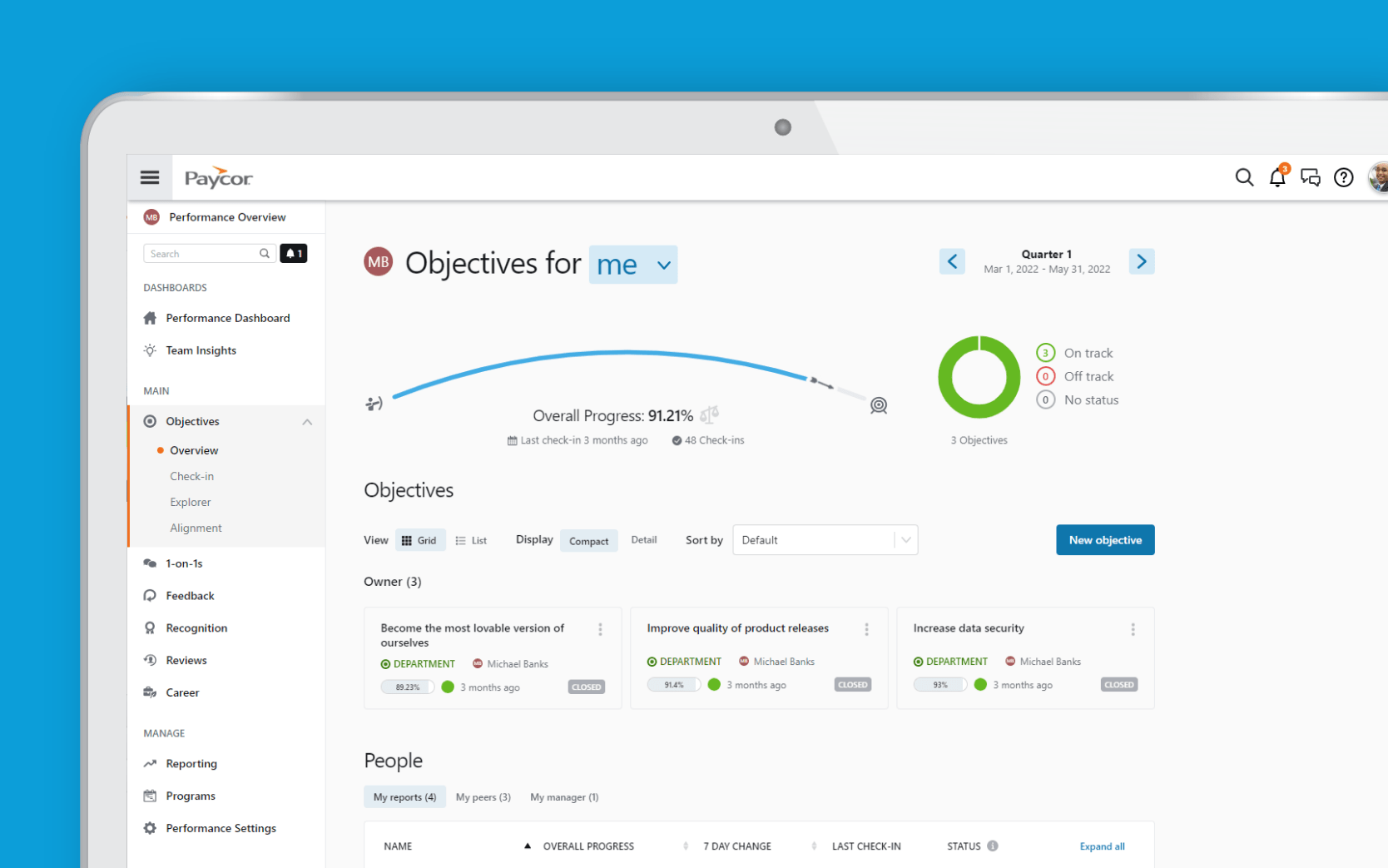 Align Goals —
Work toward the same goals with transparent Objectives + Key Results (OKRs), and eliminate wasted hours spent on unproductive work.
Paycor Paths —
Guides frontline managers through a curriculum of new learning content, coupled with action items to exercise newly learned skills and behaviors.
Remove Complexities

from Performance Management

HR leaders and employees need the right technology to simplify the process. We can help.
Modernize the Process
Paycor Talent Development eliminates the frustration, complexities and repetitive tasks HR leaders encounter when managing performance evaluations. Instead of manually collecting feedback, capturing data in spreadsheets and analyzing the results, we make the process more efficient by automatically compiling data from a selected time frame and building a report for you. With talent management software that features automated workflows, prompts, tasks and notifications, admins and managers can break free from messy spreadsheets —and get time back to focus on more impactful conversations and development activities.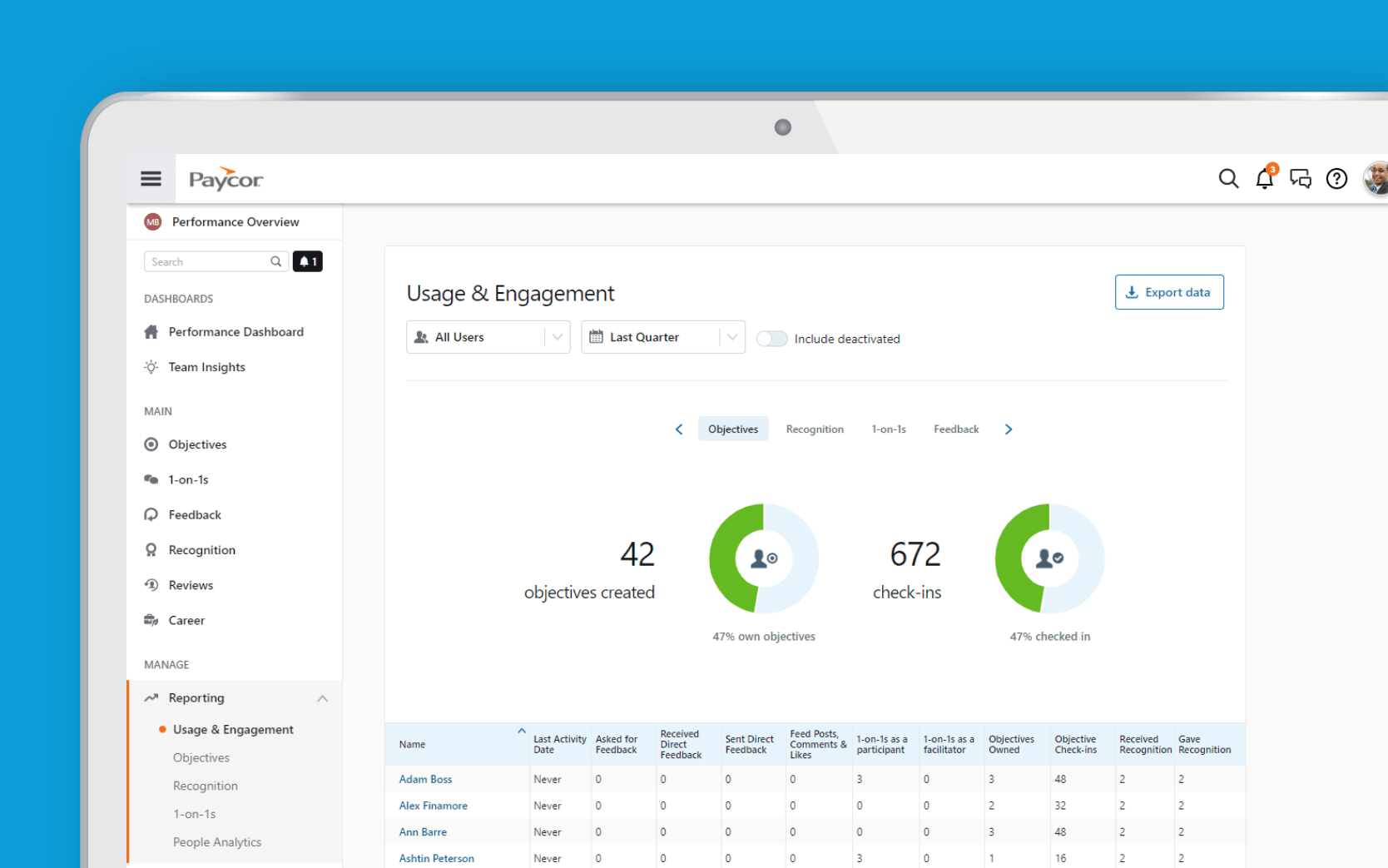 Track Goals, Objectives & Key Results —
Align individual goals to top organizational goals and let employees see where they're making the biggest impact, eliminating hours spent on unproductive work.
Team Insights —
Utilize quick link dashboards to analyze results with data that includes department and manager filters.
Best Practice Templates —
We provide you with a template library of questions to guide performance conversations.
Employee Ratings —
Use a nine-box grid to visualize individual performance, evaluate employee potential and develop complementary coaching strategies.
Configured for Your Industry
Recruit and hire skilled nurses, dynamically schedule staff, and boost engagement and retention with Paycor's configurable software.
Recruit skilled labor, optimize coverage, and track and analyze labor costs with Paycor's configurable software.
Speed up the recruiting process with same day hire, streamline with custom hiring workflows, offer workers OnDemand Pay and self-service on an award-winning mobile app.
Save time with a unified, mobile-first experience intuitively designed for leaders and gain deeper insights about your business with powerful analytics.
Maintain compliance, pay adjuncts and staff accurately and on time, schedule staff at multiple campuses, recruit qualified talents, and get up to speed faster with our industry-skilled implementation.
Recruit, onboard, pay, and schedule workers in a mobile-first environment. The last thing retailers need is a generic solution. That's why leading retailers partner with Paycor.
Pay employees accurately and on-time in a heavily regulated tax environment. Overcome staff shortages, maintain tax compliance, and help tie operations to grant funding.
Give Employees a Reason to Stay
When done right, performance reviews are a critical component to professional development and improving productivity and engagement across an organization. Yet, traditional performance management no longer offers the resources and support employees need. Infrequent conversations riddled with biases and information gaps aren't inspiring employees to improve. With retention at an all-time high, top-performing companies must prioritize a talent development program that encourages more frequent coaching conversations to help increase engagement, create the right level of focus and deliver better business outcomes.
Paycor's talent development software moves beyond the annual performance review by allowing you to create a culture built on continuous feedback. Our low-touch, robust solution automates the entire talent development process. With Paycor, HR leaders can better inform compensation, promotion and succession-planning decisions, as well as to drive employee performance.
---
More Frequent Feedback
Annual reviews often blindside employees with feedback. Paycor helps enhance your talent development strategy, opening the door to more regular and effective communication between associates and managers.
Improve Focus
Are employees aware of their priorities and goals? Get templates to create more meaningful conversations and ensure employees are focused on what's most important.
Develop Your Workforce
Most organizations want to use data to drive performance, but can't get the metrics they need. Paycor Talent Development automatically compiles data and builds reports for you.
Performance Management Solution Trusted By Users & 3rd Party Evaluators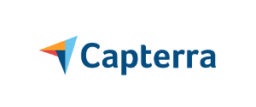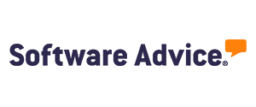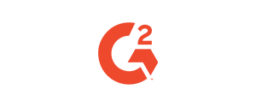 "Having a tool that can outline 1-on-1s that tie directly into an employee's goals, job description and career path in one cohesive system has been really helpful."
– Bri Mabey, HR Business Partner | SimpleNexus
5 Ways Talent Development Makes Your Company Unbeatable

Talent development's goal is to create a high-performance organization where everyone
is motivated and supported to achieve a shared vision of success.

Resources
By the time you collect and analyze results from engagement surveys, the findings are likely outdated. Tap into the pulse of your organization with regular and timely surveys. Learn more.
Article
Read Time: 6 min
Understanding employee engagement starts with surveying employees. Learn how to conduct the survey and understand the results.
Article
Read Time: 7 min
The only way to really understand why people leave (or stay) is by asking them. In this article, we'll examine the importance of an employee engagement survey.