HCM Software
Modernizing the way you manage people, from recruiting and onboarding to benefits and learning. Speak to a representative today, call 855-565-3291.
Single Source of Truth for All Employee Data
Paycor's HCM platform modernizes every aspect of people management, from the way organizations recruit, onboard and develop people, to the way they pay them, retain them and build a company culture. With one single source of truth for all employee data, you'll never have to switch platforms, log-in to multiple systems, re-key information or open numerous spreadsheets. That simplifies your everyday work processes and gives you time back in your day to focus on more important things.
HCM Software from Start to Finish
When optimizing your workforce management strategy, naturally you'll want to start at the beginning. Paycor's Applicant Tracking System helps you find qualified talent without wasting your time or theirs. Key aspects of Paycor's ATS and recruiting include:
Ability to apply for a job from any device at any time.
Recruiters receive analytics detailing where top applicants are originating or if you're overlooking any pockets of potential hires.
The opportunity to showcase how your company differs from the competition, especially when it comes to benefits.
HCM Software Features Should Engage Employees
Once you've hired the ideal recruit, it's important to make sure he or she is engaged with the company from the get-go. Gone are the days of sitting in a room on your first day of work and completing stacks of paperwork. Paycor's comprehensive onboarding software includes: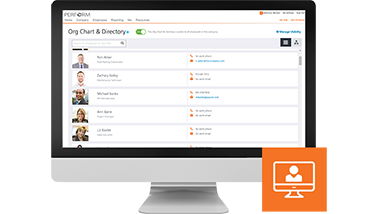 A meaningful start for new hires and a connection with their new employer.
Compliance checks.
Flexibility — new hires have early access to complete forms before their start date and HR can customize messaging.
Paycor's User-Friendly HCM Platform
The functions of human capital management are all encompassing — from hire to retire, offering your employees the opportunity to grow and develop is beneficial for both you and them.
Keep an eye on payroll costs — including turnover — and track employees' hours without having to manually calculate anything.
Use a dedicated learning tool to construct specialized training programs that meet the needs of your employees.
Pull applicant information from the first touchpoint through to the latest employee update, including the payroll process.
With Paycor Marketplace you can:
Find and connect with best-in-class partners
Build and customize your HCM platform
Streamline processes with automated workflows
Eliminate manual and/or duplicate data entry
Drive engagement and productivity for employees
Industry Expertise
Technology alone is not enough. To achieve your goals, you need technology plus expertise. Paycor has deep experience in a number of industries, so when we partner with you, we bring a wealth of knowledge about the unique challenges your industry faces.
Or pick a featured industry...
We've earned the trust of both users and third party evaluators.
We're proud to consistently earn positive reviews and high rankings from the people who use our software and professional reviewers.
What do our customers have to say?