Federal and state minimum wage changes in 2024
Minimum wage laws are complicated, and they're constantly changing. If your company has employees in multiple states, keeping up with these updates can be daunting. While some states are on a schedule for annual increases to eventually reach $15 an hour, others still adhere to the federal minimum. Although the current federal minimum wage of $7.25 has not budged since 2009, more than 20 states have provided additional increases in 2024.
To help your business follow the latest minimum wage requirements, Paycor has created a breakdown by state.
2024 State Minimum Wage Rates
*No change from 2023 has been announced.
**Varies by geographical location within the state.
***State does not have local minimum wage regulations, and instead adheres to federal minimum wage laws.
†State minimum wage is lower than the federal minimum wage. Most – but not all – employees are paid according to federal regulations.
The map below shows which states have changes in minimum wages in 2024.
You can find minimum wages for tipped employees, here.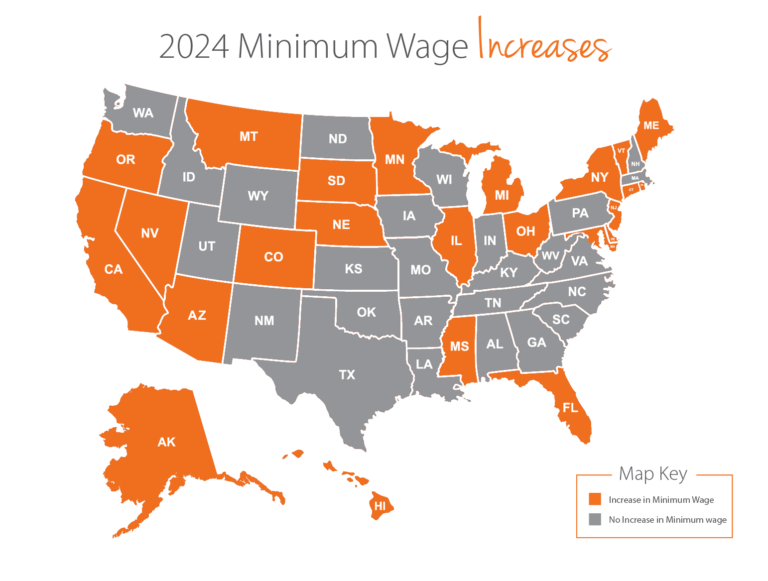 Which States Are Increasing the Minimum Wage in 2024?
More than 20 states have announced minimum wage increases for 2024. These states are:
Alaska
Arizona
California
Colorado
Connecticut
Delaware
Florida
Hawaii
Illinois
Maine
Maryland
Michigan
Minnesota
Missouri
Montana
Nebraska
Nevada
New Jersey
New York
Ohio
Oregon
Rhode Island
South Dakota
Vermont
Washington
In most of these states, the minimum wage is scheduled to increase on January 1, 2024.
Is the Federal Minimum Wage Rising in 2024?
No. The federal minimum wage has remained $7.25 since 2009.
Which States Have an Upcoming Increase to $15 Minimum Wage?
The following states have passed legislation to reach a $15 minimum wage in 2024 and beyond.
Delaware (2025)
Florida (2026)
Illinois (2025)
Maryland (2025)
New Jersey (2024)
New York state (2025)
Rhode Island (2025)
Which State Has the Highest Minimum Wage?
The state with the highest minimum wage in 2024 is Washington, at $16.28. If Washington, D.C. were a state, it would have the highest minimum wage at $17.00.
For more than 30 years, Paycor has been guiding our clients through big changes to federal, state and local taxes as well as compliance. Check out our Resource Center for the latest compliance updates, industry trends, thought leadership and best practices to help organizations achieve their vision and reach their potential.
Paycor is not a legal, tax, benefit, accounting or investment advisor. All communication from Paycor should be confirmed by your company's legal, tax, benefit, accounting or investment advisor before making any decisions.
Discover the Full Spectrum of Paycor's Expertise
Paycor's expertise goes far beyond minimum wage. From recruiting and onboarding to people management, compliance and more, we provide technology and expertise to help business leaders solve problems and grow their businesses. How can we help yours? Take a guided tour of our most popular solutions to find out.