3 HR and Payroll Needs for Healthcare Providers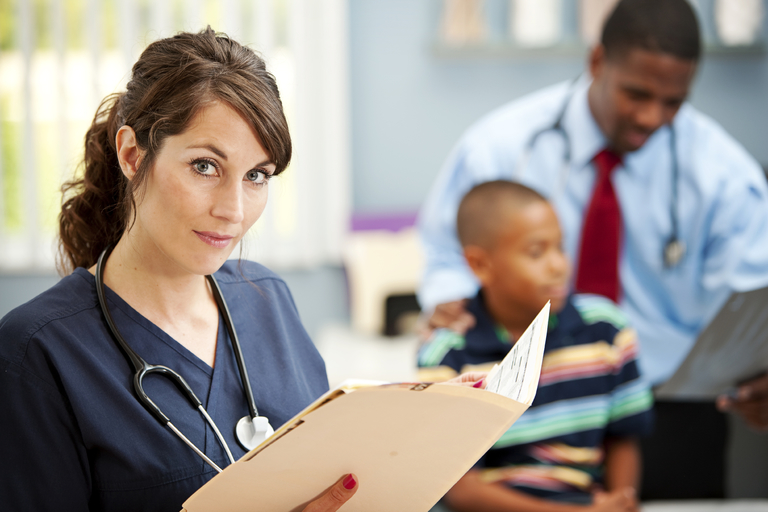 Between staff shortages, high turnover and the challenge of managing certifications, HR professionals in the healthcare industry have a lot on their plates. When healthcare organizations are looking for an HR and payroll provider, they should learn about the solutions they can offer to combat these challenges, allowing the healthcare providers to get back to their mission of providing quality care to their patients.
Staffing challenges
Upcoming shortages
Experts are predicting staffing shortages, as a large proportion of doctors and nurses are approaching retirement age. Also, studies have shown that a high percentage of medical professionals are planning to retire within the next decade. The healthcare industry is facing a war for talent, so efficient hiring processes will be a must in the years to come.
High turnover
Healthcare positions such as physicians, nurses and medical assistants have a high turnover rate. For example, the average nurse turnover rate is 14%. This high turnover stems from two primary causes: 1) burnout from high job stress and 2) medical professionals leaving to work in private practices. Since the earnings potential is generally higher in private practices, healthcare organizations must often replace medical professionals who leave to work in a private practice.
Thorough background checks
Hospitals, medical practices and other healthcare providers need to perform thorough background checks on any potential employees. Since healthcare employees will be entrusted with the care of patients and with sensitive personal information, hiring organizations are most concerned about those who misrepresent themselves or use drugs.
Training and certification challenges
Certifications and credits
Healthcare organizations need to be able to track certifications, as medical professionals generally have continuing education credits they need to renew year after year. In order to reduce risks and liabilities, it's important for these organizations to have an easy system to track and report on each employee's certifications and expiration dates.
Health and safety training
Workplace training on health and safety is important in all organizations, but arguably the most important in the healthcare industry. In workplaces where there is complex and potentially dangerous equipment, like scalpels, syringes and X-ray machines, proper training is vital to keep employees and patients safe. It's also critical to track and have proof of that training to protect the organization from liability.
Payroll challenges
Multiple rates of pay
In healthcare organizations, there are often different rates of pay for different types of employees: physicians, RNs, medical assistants, lab technicians, and so on. As such, organizations need to be able to easily keep track of these differentials and ensure each employee is being paid correctly.
Unions
Nurses and other health professionals tend to have strong unions. A highly unionized workforce presents certain HR and payroll challenges:
* Payroll systems must be able to easily handle union deductions and required pay scale differences
* Reporting tools must be able to provide accurate documentation for discussions with union leaders
* Some union matters may also require the skill of an experienced HR professional to help secure and maintain good relationships and help the business follow all union rules
How to manage HR and payroll challenges
Between staffing shortages, the task of managing employee certifications and the intricacies of employee compensation, it's easy for health care organizations to get overwhelmed. Here are some of the ways Paycor's solutions can help:
* Robust applicant tracking system streamlines the hiring process and prevents you from missing out on top medical talent
* HR systems and reporting technology allows you track certifications and training
* Simplified payroll processing pay differentials and union deductions easy
* Access to HR professionals who can answer your specific questions helps you reduce your risk of HR violations
Get in touch with a Paycor representative to learn more about how our solutions can help health care organizations provide better care for the patients you serve.
Sources: American Association of Colleges of Nursing, Memphis Business Journal
---
Subscribe to Our Resource Center Digest
Enter your email below to receive a weekly recap of the latest articles from Paycor's Resource Center.


Check your inbox for an email confirming your subscription. Enjoy!